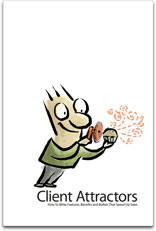 You already know that 80% of a sales letter depends on your headline
And therefore it's not uncommon to see writers spend many hours testing and re-testing their headline.
But what happens once your customer goes past the headline into the rest of the copy? Which are the elements that cause customers to feel an urge to buy your product or service?
The remaining 20% is what causes customers to buy…
In order to take customers to the next stage, you have to have a rock-solid system method to structure your sales page. You have to know and understand the elements so that customers respond to your offer. So isn't it time to find out what the remaining 20% is all about? And how you can quickly learn and implement that 20% to improve results.
Find out more details at this page and judge for yourself!
https://www.psychotactics.com/products/client-attractors