---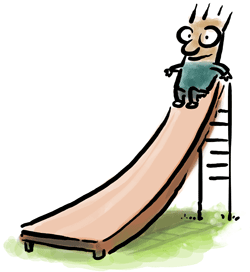 What's one of the biggest "rookie mistakes" when putting a landing page together?
It's the rookie, sitting down and writing the entire page at their desk. If you want a reasonably boring landing page, write it yourself.
But what if you didn't write it yourself? Who would write it for you? Find out more in Part 2 of this series.
You can listen to the audio too.
Right click here and 'save as' to download this episode to your computer.

---
There's a reason why I moved from PC to the Mac.
In 2008 I had to do a series of presentations for a radio station. Since the clients of radio stations are always looking for ways to get the attention of their clients, the presentation of The Brain Audit seemed like the perfect match. If there's one thing I'm very possessive about, it's the slides for my presentation.
I tend to make changes, simplifying the content and moving the slides around until the very last minute. Even if I have done the presentation dozens of times before, you can be sure I will be making changes at the very last minute.
In this case, the terms of my contract prohibited me from making those changes at the last minute.
The radio station was putting all their slides together in advance, so all slide decks had to be submitted the week before the presentation. This rattled me enough to show up three hours before I had to make my presentation. The technical crew was more than happy to let me go through a run through of my presentation on the big screen.
As I clicked through the slides, I realised that something was wrong. The presentation I was seeing on the screen looked a bit like my presentation, but somehow it was different.
The weird part was that it looked better than what I had done.
After I had got over the shock of someone tampering with my presentation, I asked the crew how they had gone about changing the presentation. "We didn't do anything with the presentation itself," they said. "We just ran it through keynote — which is a presentation software for the Mac."
That one idea was enough to get me hooked onto the Mac, even though I had used the PC for close to 15 years. The Mac had solved a problem that I didn't know existed. It had taken the best possible presentation I could muster, and made it far more beautiful than I could imagine.
Since then, I have dumped all my PCs and stuck to the Mac. So does this make me the ideal client?
It does not, because I wasn't aware of the problem in advance
To find the ideal client, you have to find someone is already deeply aware of the frustration they are facing. If you find someone like me—someone who's surprised and delighted, you're going to get a very shallow rendition of the set of problems the client faces—and most certainly never get to the depth of the biggest problem.
You have to find someone who already has a problem
And the best place to start could be a random place like Facebook. Since everyone already has an opinion on Facebook, you may shortlist your ideal client based on a friend that responds to your question.
You may have a tiny list of subscribers on your e-mail list, and if you send out a request, there's a good chance that at least a couple of responses will show up in your inbox. If you already have clients like we do, you're often still like a newbie, especially when you want to launch a new product or service.
Let's say we want to launch a product on how to take outstanding photos with your iPhone
In many cases it's easy enough to locate a great client, and it's more than likely that they would like to take great photos, but don't know how. Once you interview them over the phone, or in person, you'll quickly find a series of issues.
– Taking great food pictures with an iPhone
– How to improve your vacation photos
– How to use manual controls with your software
– How to shoot close up or macro photography
– Great portrait photography with Your iPhone
– How to dump the SLR at home and take outstanding photos with your iPhone.
The problem is obvious, isn't it? How do you choose? All of these problems seem headed in divergent directions.
The answer is: You don't choose. You get the client to choose.You focus on the problem at hand and dig deeper.
The questions would hinge on the single problem:
– Why do you want to take your iPhone instead of a Nikon?
– What frustrates you when you take the Nikon?
– Can you describe a day on your vacation?
– What are the consequences of taking a heavy camera along?
If you own a Nikon 7000 like I do, you'll find yourself leaving the camera back in the hotel room a lot.
The Nikon 7000 is a great camera, but it feels like you're lugging a brick along—and when you take three months off every year, that's like lugging a brick for 90 whole days. So unless I'm going on a trip—like the time we went to see orcas in Vancouver, or camels on the road in Australia, I keep the DSLR—that's the Nikon—in the hotel room.
And once you get me started, I can keep going on and on about the problems of a heavy camera. However, as the interviewer digs deeper, she may find that I like the iPhone for other reasons as well. I can use a slew of software, improve my photos, use filters, create depth of field (that's a feeling of fuzziness for objects in the distance)—and do that all before I get back to the hotel. With the Nikon, I have to get back, download the photos into a program like Lightroom, and then I'm chained to my computer, instead of enjoying my vacation.
When you dig deep into a single problem, you get the client to give you a ton of details.
You get them to describe their frustration on that one problem.
You also get a sense of what they experience with that one problem when you ask them to describe their day.
And finally, you get the consequences—a truckload of consequences.
You then take the biggest problem and put it in your headline and sub-head on your page
The frustration and the sense of what the client experiences: that needs to go in the first couple of paragraphs, followed closely by the consequences. Which leaves us with a sort of dilemma, doesn't it? What do we do with all the rest of the problems the client brought up? Do we just get rid of them?
This takes us to the third part—what to do with the rest of the problems.
---
Element 3: What do you do with the rest of the problems?
The answer is simpler that you think.
Remember the Portabooth—that portable recording booth that you could take on the road with you? Well, it didn't have one benefit or feature, did it? It has a series of them. And yet, the client is most interested in the biggest problem. Once you've solved the biggest problem, the rest of the features are really a bonus for the client. They are a nice-to-have, but not a deal breaker.
The way to use the rest of the problems brought up by the client is to see whether you want to tackle them in the first place
With the Portabooth, we could bring up the rest of the features and benefits and explain why there was a problem and how the Portabooth solves that problem. Unlike the biggest problem, where you have to go into a lot of detail, you can just use a paragraph or so to explain the rest of the main features.
You bring up the problem—for example: Assembles in seconds Just close two zippers—and describe the problem briefly, before bringing up the solution. Now you've taken every one of the remaining features, turned it into a problem, and brought up the solution.
But what if the problems were incredibly divergent, like in the case of the iPhone photo book?
Think about it for a second: Is the book going to show you how to shoot portraits, use manual controls, take pictures of butterflies—as well as show you how to take great food photos? If so, then hey, the product already solves the problem, so simply use the remaining features on the sales page itself.
If the problems the client brought up, don't fit in with your product or service, then you have to ask yourself: Am I going to include them in this product or service or do I simply focus on one thing?
In Psychotactics land, we've focused on one thing
Instead of writing a book of 200 pages, we may restrict ourselves to 59 pages. We've come to the conclusion that clients want to get a skill, not more information. But if you're selling a product like a mixer, for instance, you have a ton of features and benefits. Even so, it's better to restrict yourself to just four-five problems being solved.
In today's world it's easy to get overwhelmed very quickly, and keeping the features and benefits to just a few is the best way to go. If, however, you still have a ton of features and benefits and would like to talk about them, then restrict them to bullet points. Bullet points are amazingly effective, because they form a quick summary of the product or service.
And there you have it—the series of steps you need to give your product or service the limelight it needs.
You focus on one.
One plane landing on the tarmac at a time.
It makes for a tidy airport and a very successful landing page!
So what did we cover?
1 How to choose one problem.
2 Defining why the problem is important.
3 What to do with the rest of the problems.
We looked at the racehorses—and how they bolt out all at once. It seems like a good idea to introduce all our benefits and features, but instead of benefits and features, we need to use a problem. We get to the problems, by inverting the features and benefits. And then once we have the list of problems, we get the client to choose one. Which is the client's most pressing problem?
– Trying to write this landing page all by yourself is usually a big waste of time.
You struggle to write it and then the problems are not that which the client experiences. Plus, it's hard to figure out the emotions the client feels. I'll ignore my own advice only to come back later and realise what a fool I've been. It's so much easier to call a client and record their experience. Or better still, take them out to lunch—because you'll get to drink some wine too. And that's always more fun. Take your recorder with you and make notes as well. Both are very important.
– Finding a client is always daunting.
The best kind of client is a client that's already deeply frustrated. Someone who's been going through a heck of a lot and can describe in great detail what they're experiencing. I've lugged my camera around a lot to tell you what that feels like and why I leave the camera behind. You may think Facebook isn't the best place, but you'll be amazed at how much feedback you can get on Facebook. Are they the best clients ever? Of course not, but once you launch your product or service, you can always tweak your landing page.
– Go deep into the problem. Ask the questions.
– What frustrates you the most? Why does it frustrate you?
– Can you describe a day on your life?
– What are the consequences of postponing this decision? How does it make you feel?
Finally, what do you do with the rest of the problems?
If they fit in with your product or service, then simply put them in as features and benefits. Or as bullets.
Announcing: 2021 Landing Page Online Course (on sale on 27 February)

When writing sales pages or landing pages, do you get overwhelmed even before you start?
It takes so long to write a sales page that we often lose the battle with time and energy. But what if there were a way to write a sales page—an outstanding sales page—every time.
Find out how to get on the waiting list for the Landing Page Course

________________________________________