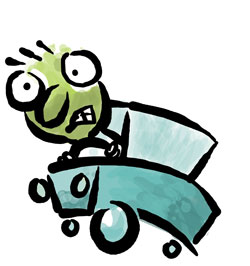 I went for guitar classes when I was about 20. My dad owned a guitar. But I refused to borrow his, and went out and bought my own.
I thought it would make me more committed.
For four months, I plonked away at the strings, and then one day, I quit. In effect, my guitar teacher got the sack.
But What's Guitar Playing Got To Do With Consulting?
Let's concentrate on the sacking part, shall we?
My guitar teacher was a pro. He was a kind person. Very likeable. There was nothing wrong with his teaching methods. The fees were affordable. And I had enough time to learn to twang away.
Yet, four months later, we parted ways (amicably, of course) but the guitar teacher stayed fired.
When we deal with customers, especially in consulting, we ignore a vital framework. A framework that allows us to get fired more easily.
And sometimes we get away scot-free. At other times, all we get is grief. And more grief. And hair-pulling. And teeth-gnashing.
(You get the picture, don't you?)
And the minefield can so easily be avoided…
So What's The Biggest Minefields In Consulting?
Easily the biggest kaboom factor is one of not qualifying the client right before you sign them up. Not setting up the framework.
You, I, we all have had more of our share of big, big trouble simply because we didn't go through a step-by-step process of establishing of qualification and framework.
So Which Are The Questions That Qualify The Client?
First let's look at some of the main questions:
The 3 Main Objectives.
On A Scale of 1-10 Rate Which One Is Of Most Value?
How Are We Going To Get There? What Is The Input?
What Are The Main Impediments?
Are Goals Measurable? How Often Do We Measure Them?
Our Conditions (The Most Important Of All)
1) The 3 Main Objectives
So let's get back to my guitar teacher, oui? What were the 3 main objectives? Um…let's rephrase that a bit. What were MY 3 main objectives?
It was to play "Hotel California, Hotel California and 'Hotel Cauli-fornia' (As Arnold would say)
But my guitar teacher didn't know that. So there I was plink-plonking away (what else?) on some darned scales that he wanted me to play.
You need to work out what your client's biggest three objectives are as well. If you don't know, you've already got off to a miserable start.
2) On A Scale of 1-10 Rate Which One Is Of Most Value?
I know it sounds obvious. But get the client to rate it. A rating will tell you what you need to know, and you can get crackin' on what's most important to the client right away.
No point in starting what's second-most urgent, eh?
3) How Are We Going To Get There? What's The Input?
You need to be very clear how you're going to achieve the objectives. Your client needs to be even clearer.
And you need to know what resources they can offer. What's going to be their input? In one of my disaster consulting scenarios, I had no idea that the client was going to have no input; that they wanted me to do it all.
If you aren't going to get input from your client, you need to know, so you can prepare and allocate time and charge accordingly.
4) What Are The Main Impediments?
The main impediments to me learning the guitar were my friends. They could all play songs. I could only play scales.
But my guitar teacher didn't know that.
If you don't know what's causing blockages, your consulting project will soon be faced with a rockslide of epic proportions. And you don't want that.
5) Are Goals Measurable? How Often Do We Measure Them?
Some goals are measurable. Some are most wishy-washy.
Logically you can't measure morale. But surely you can. How do they know that morale is low? There had to be some benchmark. You can always find benchmarks for measurement.
You need to set these benchmarks in advance. And set a date for analysis and review. Otherwise, you get no credit. And hey, nothing pays off like tootin' your own horn, or re-adjusting if things aren't hunky dory.
6) Our conditions
This last condition is the most important. As suppliers, we think tend to be so eager to get clients to sign on the dotted line, that we forget to make OUR conditions.
Whenever clients work with us, either as part of a group consulting or even a workshop, we make them sign specific conditions, before they pay us a cent.
If you don't have conditions in place, you should start thinking about them today. And make sure your client agrees to your conditions.
Remember, it's a partnership, not a slave deal.
Every consulting project should have conditions, or else you're setting yourself up for a very one-sided deal.
If Only My Guitar Teacher Set Up Qualification Systems
I'd be playing more than just 'Hotel California.' I'd be playing dozens of more tunes. I'd be referring far more people to him. He'd be happy. I'd be happy.
But because the framework wasn't put into place, I can't play the guitar.
All I can play is…the fool. 🙂
:next_step: