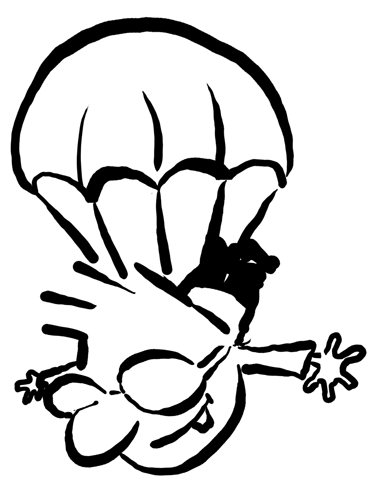 Sir Freddie Laker, veteran of the now bankrupt Laker Airways, had some sombre advice for Richard Branson. Richard was about to start up Virgin Atlantic and wanted some words of wisdom.
As Richard Branson tells the story, "Sir Freddie sat me down and said, 'If you're going to take on PanAm, TWA and British Airways, you've got to use yourself and get out there and realise that if you dress up in a captain's outfit when you launch the airline, you'll get on the front page. If you turn up in ordinary business clothes, you'll be lucky to get a mention.
'Remember the photographers have got a job to do; they'll turn up to your events and give you one chance. If you don't give them a photo that will get them on the front page, they won't turn up at your next event.'"
You can tell Branson was listening carefully, because on Feb 29, 1984, he turned up in World War I flying leather gear and announced the formation of Virgin Atlantic Airways.
The press was gobsmacked.
A CEO going out of his way to give them great pictures was like manna from heaven. In the inevitable massive publicity that followed, few of the readers realised that Virgin Atlantic hadn't even got itself a plane.
When the competition zips, you zap!
Richard Branson learned the zip-zap system quickly, but Harley Davidson took its time. It was the early 1980s and Honda, Kawasaki, Yamaha and Suzuki ruled resolutely on the bike landscape in the U.S. Harley's balance sheet was literally dripping with red ink and teetering on bankruptcy.
In the midst of chaos, Harley took time out. First they stopped complaining and whining about protection of local industry.
Then they looked at their competition and drew up a list of comparisons. The Japanese bike makers stressed the high-tech side of things. Harley chose to talk about heritage and tradition. The Japanese pumped advertising dollars into touting new engines, new frames and new suspensions. Harley stuck to its guns with mystique and sheer quality.
Then suddenly like a phoenix, Harley rose again. Let's be the alternative, they decided. Let's do everything the competition can't do.
When everyone's zipping, you zap.

So why does the zap system work?
Simple psychology really. It works because customers are way too smart for creative marketers. In today's world customers know exactly what they want. And if they don't know quite yet, a website with the precise information is just a click away. They'll find out anyway, so why don't most businesses venture into the zap zone?
Being in the zap zone is scary. No one wants to go there. Harley had to keep their fingers crossed when they trusted their intuition on mystique and tradition. Richard Branson had to risk being mistaken for Bozo the Clown.
It's scary for you. But customers knows exactly WHY they should choose you. When you're sitting out on a limb, it's easier for customers to spot you, than when your covered with foliage.
And choose you they do.
And you don't have to do the Bozo routine
At PsychoTactics, we haven't. We've stayed dead serious with our message. Yet everything we do goes the zap way.
Look at the evidence.
They said we couldn't write loooooooong articles online. They said people wouldn't read them. You're reading this, aren't you? They said you need to pitch your product right away to a customer. We prefer to teach the customer and give away rich content without any cost or obligation. In a world that accepts and pays commissions, we don't do either. And the list goes on.
You're the one making the rules in a zap world
When you think about it, most business is pretty insipid. Most companies get their ideas from other companies. Companies will often say, "They did it, so we can do it or we must do it." And so they go about creating clones of each other. Too scared to break the mould, they duplicate remorsely.
This makes it quite easy to stand out in a cluttered marketplace.
First, all you need to do is to make a list of your biggest competitors. Richard Branson did. That gave him a starting point.
Then he did exactly the opposite. That's it. Just by doing the opposite and tying it in with your story, you can be spotted a mile off.
Don't just sit there reading this article…
Audit your material. Try the zap system. Look at your website. Does it look like a million websites out there? Is it just another sales pitch or is it a true resource? Look at your sales pitch? Is there a way to zap your audience by changing what you say? Or the way you say it? I'm betting my bank balance there is another way. Does your brochure blah, blah, blah its way into mediocrity and sameness? Find a way to stop being a wallflower.
And don't confuse zap with creativity, OK? Already squillions of dollars are wasted each day over creative ideas that have no legs.
Zapping is just about being yourself. Different. Whether you're loud or quiet hardly matters.
And if you want to look for inspiration, you don't have to look further than Shakespeare who said: To thine own self be true, for it must follow as dost the night the day, that canst not then be false to any man
Or in other words, find yourself.
Then Zap em!
Recommended Product: The core of getting attention is to flag a customer down. But how are you going to do that if you don't even know what gets their attention in the first place? The Brain Audit not only shows you how to get their attention, but actually get a response.
[next_step]