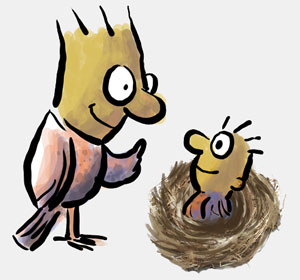 You know those presenters who read out from slides? You know how you detest them? Well there's a reason.
And it comes all the way from Hollywood
The Hollywood saying goes like this: If the scene shows you what the scene is supposed to show you, you're in deep shit.
What does that mean?
If there are two lovers over a candlelit dinner and they're saying: "I love you" then the scene is showing you what the scene is showing you.
So in effect it's treating you like an idiot. You already know that the candlelit, soft scene is about love. That's already been clearly shown to you. Now if the actors repeat it, then it's a complete waste of space. And a waste of your time.
Love can be shown in different ways
So in an episode of Frasier, Daphne and Niles are chopping vegetables and singing a song. And they chop to a rhythm. There's love written all over the scene. Unabashed love on Niles' face. Unknown love on Daphne's face. But they never say I love you. They chop veggies.
The same applies to anything whether it goes from cartoons to magazine layouts to presentations
The graphic needs to accompany the text. Not be a replica of the text. If the graphics are a replica of the text, it's boring for the reader/listener/viewer.
So when you read off the points in your slides, you're causing the listener/viewer a ton of grief. For one, you're breaking Hollywood's rule–that's never good. And secondly you're boring me, because here's what happens in my brain.
When I see text, I read it
When I read it, it may appear to be a silent reading but in fact my ear is processing the information before sending it to my brain.
You see this more evidently in older folk and young children. They read aloud so that their ear processes the information before sending it to their brain. The same applies to you and me–except that we don't read aloud. But we've still "read aloud" and then along comes the presenter and reads it aloud again.
That's like saying something twice. That's like saying something twice
It irritates the reader/viewer. It irritates the reader/viewer. And in a few minutes it turns the reader/viewer off completely. And in a few minutes it turns the reader/viewer off completely.
Get the point?
P.S. Do you have a Presentation Story? Share your Story here.
Product Offers: Links you should visit

---
"I wasn't sure Sean would have anything new to say or would offer
advice that would be easy to apply."

I was also concerned that I would be deluged with a lot of information and sales pitches that I would get overwhelmed and not be able to implement anything.
But after I checked out his site I was impressed by all the free offerings. And it seemed so well organized I didn't feel overwhelmed or confused. I tried a few ideas out and was so happy with the positive results that I bought the Brain Audit.
After reading (and re-reading!) the Brain Audit I felt like a blindfold had been lifted off my eyes. It made so much sense and I kept thinking how it seems so obvious but no one has ever put all the pieces together like this before.
I am happily communicating with patients much better, and attracting more of my ideal type of patient.
So if you want to break through to get better results and are willing to do a little painless work, then do yourself a favor and get the Brain Audit.

Tyme Gigliotti, Licensed Acupuncturist
Baltimore, MD, USA
Read more at https://www.psychotactics.com/brainaudit
---

In your small business, how can you get reliable answers to your complex marketing problems?
Find out more at https://www.5000bc.com/
---
Top Selling Products Under $50

---
1) You already know that 80% of a sales letter depends on your headline.
So what's the remaining 20% that causes customers to buy? Find out more
2) Do You Often Hit A Wall Called 'Writers Block'?
Learn how the core elements of outlining can save you from the misery of writing your next article.
3) Do you know that visuals immediately improve your sales conversion?
Learn how to create drama and curiosity and help improve your web page conversion with visuals.
4) Do your websites, brochures, presentations, etc… confuse your clients?
Put some sanity into your design, even though you are not a designer?
5) Chaos Planning
Year after year you sit down and create a list of things you want to achieve. Then suddenly it's April, and you've not really moved ahead as you'd expected.
Learn Why Most Planning Fails: And The Critical Importance of Chaos in Planning.
---
NEW PRODUCT! Learn How To make your Presentation stand out from every other presenter.
---
[next_step]