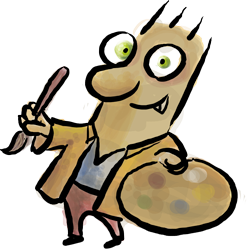 I don't know if you've read a watercolour instruction book before.
But no matter which book you read, the instructor will tell you one thing: You need to understand 'values'. Without 'values' in your painting, you will never create a watercolour that is dramatic.
And then you open the book, and guess what?
One page.
One measly page.
One measly page among about 150 pages of the book has been devoted to 'values'.
So what just happened there?
The instructor told you what was important, and then failed to drive home that importance in greater detail. Why? Because there's so much to teach that they feel this need to rush from one thing to the next; one concept to the next.
And this is approximately what we tend to do with any training program or infoproduct. We are in such a hurry to create this massive infoproduct, that we fail to understand that one concept needs to get far more mileage than the next.
So why does one concept need to get more importance?
For one, because your clients are plainly confused. When they start learning any new skill or system, it's like being sloshed around in a whirlpool of information. And the moment, you, the teacher, says: "Hey listen up, this is important!" all the ears perk up. Now the clients know what is important. And they feel a sense of relief.
Instead of being tossed around madly, someone (that someone is you) has taken the trouble to hit the "pause" button and identify what's important.
When you're a student, it makes perfect sense to slow down, understand and implement the most important fact. But of course, as the teacher/creator, you're in no mood to pick just one thing and make it important.
That's because you think everything is important
And it is. Everything is important.
All that you have to say is important, but ONE thing is more important than everything else.
And if it's not, it's your job to drive home that factor of importance. It's your job to pull out that single element from a tangle of elements—and then drive home why it's so important for the client to focus on that one point. This not only calms down the client but also gives you the chance to create a solid foundation that you can go back to many times over.
But let's take an example or two, shall we?
Let's take the DaVinci cartooning course, for instance (It's a course we conduct at Psychotactics). When we teach cartooning, it's easy to get lost in hands, legs, faces, and a ton of other things that you need to teach in cartooning.
But instead we start off with what is called 'circly circles'. And if you were to speak to anyone who's done this course, and you asked them what 'circly circles' was all about, they would tell you clearly.
They not only understand the importance, but know how to implement it, and know how to fix the problem. What's happened here is that despite having dozens of elements to choose from, we had to focus on one element and drive that over and over, until it became second nature. And it doesn't just apply to a course. It can apply to a book or any type of infoproduct as well.
So let's take another example
In the book called The Brain Audit, (which is about 'why customers buy and why they don't) there are seven critical points that need to be considered. But when you read The Brain Audit, it's quite clear which one gets the most attention. It's the element called the 'problem'. What's interesting is that it's not even the most important of all the seven elements.
You don't always have to pick the most important. You just have to pick one and give it the highlight so that you slow down the learner and get them focused. And in The Brain Audit the one element that gets picked, is the 'problem'. And the message is driven home over and over again.
But how do you pick what's important?
Because in every infoproduct you're going to have many elements to choose from…
And in your brain, at least, everything is just as important. Sure it is. There's no one thing that's more important than the next. Even in watercolour painting, if you don't have a 'focal point' or don't have 'foreground, middle ground and background', you can still create a crummy picture. But still, one element has to be picked.
Which one is important?
They're all important. So make a choice. Pick one.
Then make it important.
And highlight its importance drive home the point—in great detail.
And that makes things easy for you, as the creator of the product. And makes things easy for the student as well. It makes your work stand out from the rest. And that's what you want, right?
---
Next Step: Links you should visit
1) How do you create presentations that enthrall, hold and move an audience to action? Find out more…
2) Are you serious about getting your business to the next level? Have a look at 5000bc.
3) Are you losing tons of potential business because you don't know how the brain works? Read how The Brain Audit can help you.
---