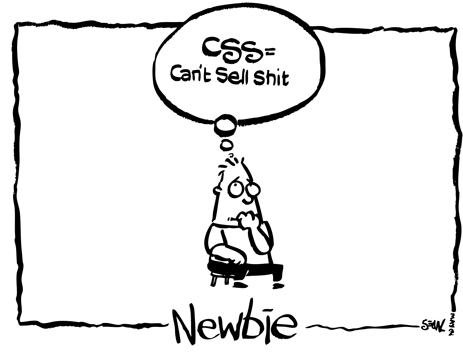 The problem is that we're all newbies.
And we're all trying to sell. Which is why we can't um…CSS (See cartoon above).
And the reason why you can't sell?
You've got the wrong end of the stick, my friend.
You don't sell.
Customers buy.
If you're trying to flog your stuff, you end up in CSS territory.
And then you blame the economy.
And the house-crisis.
And the politicians.
When in fact, it's you to blame. It's you who's trying to find a quick, easy way.
In life, we take things slowly. In business we expect it to rush along.
We ignore life. We think it should be different from business.
And if we hurry things along, we'll always be newbies–always trying to sell, instead of getting the customer to buy.
And then CSS has a whole new meaning.