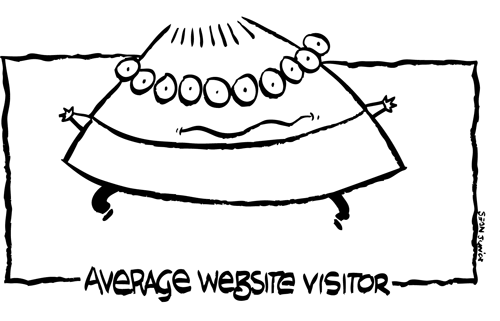 If you look around you on the Internet, you'll think the average visitor to a website was a ten-eyed monster. Because almost all the websites or blogs you visit, have all this clutter.
Clutter that forces your eyes to go bouncity-bounce before it can even work out where to go–or what to do. And that's only half the problem. There are probably half a dozen calls-to-action as well. Sign up, call me, read the articles, blah, blah, blah!
So what's the average website visitor to do?
Luckily our brains have to deal with this clutter every single day. So the brain learns to be selective. It learns to focus on some stuff and ignore the rest.

Oi, get that?
The customers are ignoring your clutter. So if they're ignoring it, why put it in, in the first place?
Cut the clutter.
Print out your page, and get a customer to cancel what's not important.
They'll do it. And they'll have a ball going choppity-chop, cancel, cancel, cancel.
Which just proves one thing.
Your customer was never ten-eyed in the first place.