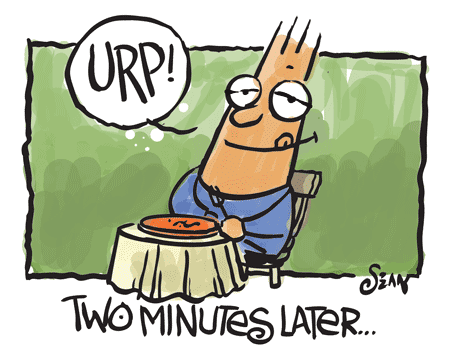 Most of us don't realise the attraction power of two-minute noodles.
So let me explain…
You're hungry.
You boil some water while you desperately tear open the packet.
The water bubbles away madly as you reach to cut the tastemaker within the two-minute noodle packet.
Two minutes, maybe three minutes later, you're burning your tongue as you wallop down the noodles.
What you've experienced is an instant result.
And customers too want to experience that very same instant result with your information. They don't want to waffle through mountains of information. They want a nice, quick bite to begin with. Of course, it helps if you have parameters to begin with…
And here's are the parameters of what makes a two-minute noodle result really potent.
1) It gets you results instantly.
2) You as in you, and you, and you, and you. It literally gets everyone results, no matter how much of a beginner or a pro they claim to be.
3) The meal isn't elaborate (and this lack of fanciness is important).
So let's take an example.
Let's say you have a food website (yes, the food analogy continues). And you want to instantly show your customers how to choose a good beef steak. Here's how you get their attention almost instantly.
Main topic: How to choose premium cuts of beef
This may be a big topic, so the food website has split the topic into the three quick ways you can identify premium cuts of beef.
Subtopics
1.1 Marbling
1.2 Color
1.3 Firmness

Further elaboration of sub-topic
1.1 Marbling
a. What is marbling?
b. Why does marbling matter?
c. The difference between a $5 steak and $15 steak
1.2 Color
a. What to look for in color of a beef steak?
b. Why a 'purplish' color isn't a bad color for aged steaks
c. How fat is the tell-tale sign for freshness.
1.3 Firmness
a. How firmness indicates lower water content
b. Why water content results in a drier, non-moist cooked steak.
c. How to check for firmness in under 5 seconds.
When these points are expanded, three things happen:
1) The customer gets an instant result/understanding.
2) Anyone can understand how to implement these steps.
3) The steps aren't elaborate, but extremely empowering.
And this two-minute noodle concept can be easily applied to any business, no matter whether you're in copywriting or testing or um, in the noodle business. In fact, at our site at Psychotactics.com we have a headline report called 'Why Headlines Fail' that uses this exact technique.
The technique is simple.
And effective beyond your wildest imagination.
And instant.
Well, kinda instant 😉

Feel free to Twitter this article.