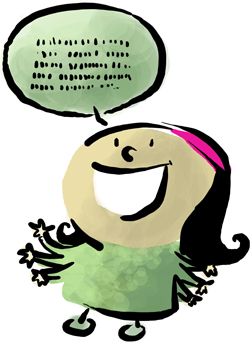 Keira is my niece. My sister in law teaches her daughter Keira the names of every one in the family. She does this by getting Keira to recognise the photos and call out the person's name. So Keira learned everyone's name. And now at two, she says 90% of the names (except the really hard ones like 'Renuka') with perfect pronunciation.
And the difference between Keira and other kids (at the same age) is efficiency. Day after day, Keira gets the drill. So now she can take a look at a photo of a relative she's never met and call their name out perfectly.
What she's getting a lesson in, is efficiency management
And this is what our brain does best. It tries to get really good at mastering a skill, especially if it considers the skill important. So as we grow up, we learn how to walk, talk, and we work very hard to master the skills. And luckily we learn all of this before we're six years old. Until the age of six, we have almost no concept of time.
Then we turn seven
And suddenly our weeks, days and hours start to get governed by time.
But the truth is that it's not time that needs structuring as much as efficiency. If you can be woken up from your deep sleep and can do something e.g. brush your teeth efficiently, then you're good at it. A one year old can't do that. A five year old does it better. And a ten year old does it even better.
The secret is indeed not time management, but efficiency management.
I draw cartoons fast, or write fast, or use InDesign or Photoshop, not because I'm good at time management. But because I'm relentless with the learning.
I forget stuff like everyone else. In fact I may be a lot worse. So I make laborious attempts to remember.
So while I do learn and read a lot of things, I keep going over and over and over the learning, until it's second nature. So if I'm reading a book for instance, I'll first just read it. Then if I find that it's a good book worth remembering, I'll get into the drill of mastering it.
1) I'll buy the Kindle version of it and mark it.
2) I'll make notes of the same book in my Moleskine (see links below)
3) I'll buy the audio version and listen to the same book at least thrice (if not more).
4) Every time I read it, I'll implement at least 2-3 of the concepts.
5) I'll write an article or two about the concepts in the book.
6) I'll talk to my wife, Renuka about the concept. I'll talk to clients about it. I'll bring up with friends in casual conversation.
In short I am desperate to become efficient. And I have no excuses.
And some people have their excuses

They believe that they learn better through audio. Or by reading. And good on them. I don't learn well enough to master by reading or audio. So I do both. And I do it again and again. If you want to restrict your learning to one medium, well that's your call.
I want to see the video. I want to hear the audio. I want to read the book. Heck I'll even watch the cartoon version of the same information. I want to learn, and I have no excuses. Because when you think about it, people are making excuses.
I have no time for excuses
My goal is to master the concepts, so I will go over and over it. And like Keira, I get efficient. You can then bring up any page of the book, and I've really gone over it, over and over. And I understand it. But there's still a lot to be done. And so the journey goes on.
Time management is really um, an interesting concept for me…

Take today for example. I woke up with this big plan of what I had to do. And guess what? For one, I put in too many things to do in one day. There was no way I could do it. Then suddenly I found myself mysteriously transported to the cafe. Then to the kebab shop. Then to watch a movie in the middle of the day. Then the hours flew. But twenty minutes ago I started writing this article. And now the article is done. It's over.
Ten years ago, this article would have taken me two days.
I'd have budgeted the time for it. And cursed and ranted through it. Now I don't. I write so many articles in a year (sometimes over 300 articles or more) that it's second nature.
You can wake me up at 2am. And I won't head for my toothbrush.
I'll write an article.
Or do a layout in InDesign.
Or be able to draw a watercolour cartoon perfectly.
And it's not because of time management. It's efficiency management. It's not that time management doesn't count.
It does. But in my book, efficiency counts more.
Ask Keira!