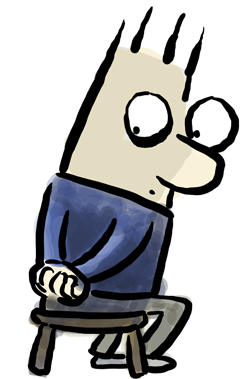 We have the curse of knowledge. We all do.
We know what we know, and we know it so well, that we assume that everyone else knows it just as we do. So for instance, I understand a concept like 'uniqueness' and it's almost second nature for me, so it's normal for me to assume that anyone can just sit up in bed and create a uniqueness for their business.

It doesn't matter what you do.
If you're a chef and you cook great dishes, or a web designer that designs nice-looking blogs—or whatever your profession. You'll soon get to the stage where you believe that what you know is very simple for the other person to understand.
And the other person doesn't have a clue.
Well that statement isn't entirely true. The other person does understand the concept intellectually, but needs examples. And they need examples, because they need to see a picture in their heads. This picture is created in many ways, but let's choose three ways.
1) Using an industry case study
2) Using a client example
3) Using a story from your own experience
1) Using an industry case study
People love case studies. So if you have a case study, you are immediately able to demonstrate how something worked in your industry. So let's say for instance, you're an expert in 'creating change.' And you're writing an article on how to speed up change in behaviour in less than a week. Now you have to get a case-study of how that change happened in that industry. And when you give the reader such case-studies, they understand the concept a lot better.

But what if you don't have an industry case study?
The problem with industry case studies is that it requires a ton of research. And you have no time to go digging. In this case, you use a client example as your case-study.
2) Using a client-example as a case-study
This type of case-study is much easier to pull up. If you read The Brain Audit, you'll find that every chapter ends with two sets of case studies. They're not fancy case studies, they're just client-examples. And they do just as well, because the reader now gets a solid understanding of how the concept is being applied.
The problem, however, may be that you can't remember any client case-studies and you've got this deadline that's killing you. In which case it's time to pull out an example from your own experience.
3) Using a story from your own experience

No matter what you do, you have stories from your own experience. So if you're a professional speaker, you'll have speaker stories. If you're a dancer, you'll have dancer stories—and so on. You run into clients, you speak to them and you have a story to tell as a result of your interaction with them.
So pull a story out of your hat. And put it into the article. And you not only add a ton of sizzle to the article, but also bring greater clarity to the reader.
Time for examples, eh?
Example 1: Industry-Case Study
In August 1992, Hurricane Andrew went bananas. Like a drunk on one too many Tequilas, he tore into South Florida with wind gusts of 175mph, redrawing the landscape as he stomped onwards. Approximately 600,000 homes and businesses bore the brunt of his menace.
By the time Andrew left, he had run up a tab of $26 billion dollars and the curses of some very, very angry insurance companies. Andrew had single handedly run up the highest insurance recorded payout in history , if you don't count September 11.
Many an insurance company looked gloomily into their crystal balls and decided the future was too dicey. So while they grudgingly forked out the costs required to cover the claims, they refused to renew customer policies.
State Farm Insurance Had a Different Opinion. The biggest reason Hurricane Andrew blew the roofs off the houses was because contractors had not anchored them to the frames. State Farm not only happily forked out the policy claims but also paid its customers more to bring the houses up to code.
Amazingly, this insurance company was willing to overpay just to make sure their customers have peace of mind should Andrew or one of his family come visiting.
Example No.2: Client Case-Study
Jane was having a hard time working with her clients. You see Jane's clients are teenagers with low self-esteem. And one of the many ways to get these teens to have a higher self-esteem is to foster goal setting.
But Jane runs into a solid wall of problems when she brings up the concept of goal-setting with the teenagers. They can't write down any goals at all. And it's not hard to understand why. These teens have no self-belief. How would you expect them to believe that a goal would come true? So here's what we did….
Example No.3: Using a story from your own experience
Here's what I do when I'm presenting the 'Brain Audit' presentation.
I set a chair in the centre of the room.
I then proceed to sit down on the chair.
Then I stand up.
Then I sit down.
Then I stand up.
Then I sit down.
Then I stand up.
It doesn't matter what the audience was doing/thinking about/fiddling with before I put that chair in the centre. Now they're looking at me. And in an instant, I've got their attention. They're wide-awake. Aha, and it's all because of the prop I've used.
So which type of example ranks as the most important?
There's no rank when it comes to using examples. You may think that the story from your own experience may have the lowest rank, but that's not the case at all. A story from your own experience ranks just as high as a case-study from your industry.
The only difference lies in specifics. An industry case-study is more than likely to have specifics, and for some crazy reasons we love figures. So if you have industry-based case studies, then use them. And note the fact that you need to have them in advance. Searching for industry case-studies while writing an article is a huge waste of time.
It's better to keep a swipe-file of interesting case-studies on an ongoing basis and then use them in the article. If you try to find case-studies at the last minute, good luck to you. You won't just be spending a ton of time, but you'd also miss the point.
So what's the point?
The purpose of the 'example' is to bring clarity to the reader. And because all of the three types above bring clarity, that's all you really need.
In summary:
1) The examples/case-studies clarify concepts.
2) All three types of examples have similar weight.
3) If you want to use industry case-studies, make sure you file them away in advance. It's a massive waste of your time to go looking for them at the last minute.
So yes, use examples.
You can use them pretty much anywhere in the article. You can start with an example, or push the example to the middle of the article. Or let it sit nicely at the end. A lot of writers tend to put in the example at the end, but you don't have to. Your goal is help the reader get the point, and the example removes the fuzziness almost instantly.

We have the curse of knowledge.
We consider the things we know, to be easy. And they may well be. But the reader still needs an example. And it's your job to put that example in and bring amazing clarity to your articles.
Don't forget to leave your comment below
The Brain Audit: Why Customers Buy And Why They Don't
"Not to brag – but here is as a testament of how well The Brain Audit works:"
– I launched my Real Estate website a mere couple months ago.
– My Alexa Ranking most days hovers around 15 Million (i.e. negligible)
– There are less than 20 articles on the blog.
– I get less than 1 visitor a day – on average.
– I have less than 30 subscribers.
– Of those subscribers, I've gotten 6 conversions.
– Those 6 conversions, once the whole process plays out, will make me over $50k in revenue in the next couple of months.
Not bad for a *very* small list, eh?
This goes to prove that it's much better to have strong conversion rates than lots of visitors and/or subscribers.

Marina Brito, Washington, D.C., USA
Find out how The Brain Audit can help you
---
Products: Under $50
Products on: Article Writing, Chaos Planning, The Secrets of Testimonials, How to Create Simple Design and more
NEW PRODUCT! Black Belt Presentations: How do you create presentations that enthrall, hold and move an audience to action?
[next_step]