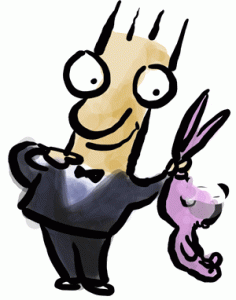 Conversion fails for simple reasons.
Labour pains vs. Baby
Which of the two would attract you if you were a woman?
You're saying baby, right?
But look around you
Every stupid marketer on the planet is selling his product or hisservice.
They're talking about the benefits of their service or product.
They're talking about the process involved in using their product or service.
Let's get one thing straight
You're not selling a product or service.
You're not even selling the benefits and features.
You're selling the want factor.
The want factor is something that I want
So let's take chocolate.
Am I buying chocolate?
Am I buying the features of chocolate? Or the benefits?
Or am I buying the feeling I get when I eat the chocolate?
And yet, marketers don't sell what people want
They sell their wonderful process.
They sell the 'labour pains'.
No one cares about your process. No one cares about how you have this grrrreat marketing program, this wonderful system to write better, this whatever it is you're selling.
They only, care about the baby
They only care about profits.
They only care about customers.
They only care about results.
They give a damn about your wonderful method.
So how do we know that to be true?
Give them the customers without the 'marketing system'.
Give them the results without the 'wonderful strategy'.
Give them the profits, and watch as they toss you aside, and rush towards the mucho dollars!
But marketers are ignorant. So they continue to sell the 'labour pains'.
They brand their products and services according to 'labour pains'.
They write their copy and put in graphics that emphasise 'labour pains'.
They make their presentations and create their marketing material around 'labour pains.'
And customers don't care. It's not like customers look at you, and think you're a dope. They just don't care about what you're selling.
Emphasise 'labour pains' and you get nothing
Emphasise 'baby' and watch the reaction change instantly.
———————
Next Step: The Brain Audit: Why Customers Buy And Why They Don't

"Not to brag – but here is as a testament of how well The Brain Audit works:"
– I launched my Real Estate website a mere couple months ago.
– My Alexa Ranking most days hovers around 15 Million (i.e.
negligible)
– There are less than 20 articles on the blog.
– I get less than 1 visitor a day – on average.
– I have less than 30 subscribers.
– Of those subscribers, I've gotten 6 conversions.
– Those 6 conversions, once the whole process plays out, will make me over $50k in revenue in the next couple of months.
Not bad for a *very* small list, eh?
This goes to prove that it's much better to have strong conversion.
rates than lots of visitors and/or subscribers.

Marina Brito, Washington, D.C., USA
Find out how The Brain Audit can help you
———————
"The membership fee is less than what I pay for my annual chamber of commerce dues, but the value I get is so much greater."
"5000bc has some amazingly brilliant, successful and inspiring business people from all industries. I can't believe how helpful and friendly the forum members are.
One of my objectives when signing up was to be in the company of business people more successful than me so I could learn from them. I definitely found an abundance of them here. I am also impressed at Sean's involvement in the day-to-day conversations taking place in the forums.
The quality of interaction and the caliber of the other members makes this a great place to visit and be inspired to improve my own business."


Natalya Murphy
Washington, DC, USA
Judge for yourself https://www.psychotactics.com/5000bc
———————
Products: Under $50
1) Do You Often Hit A Wall Called 'Writers Block'?
Learn how the core elements of outlining can save you from the misery of writing your next article.
2) Do you know that visuals immediately improve your sales conversion?
Learn how to create drama and curiosity and help improve your web page conversion with visuals.
3) Do your websites, brochures, presentations, etc… confuse your clients?
Put some sanity into your design, even though you are not a designer?
4) Chaos Planning
Year after year you sit down and create a list of things you want to achieve. Then suddenly it's March, and you've not really moved ahead as you'd expected.
Learn Why Most Planning Fails: And The Critical Importance of Chaos in Planning.
5) Nothing bugs you more than a painful client.
A client who hassles you at every step of the way. Learn how to use the power of the 'six critical questions' to get incredible testimonials—and attract clients that make every day an absolute joy.
[next_step]