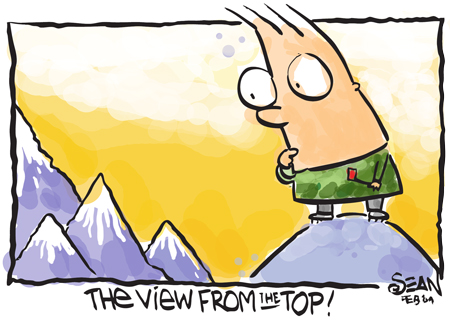 (Published Feb 17, 2009)
I just want to ask you one question: Do you think, truly think that Tiger Woods works harder at his golf than anyone else? Or do you think he works less hard?
And just to continue the question…
Do you think Steve Jobs works harder?
Do you think Michael Phelps works harder?
Do you think Miki Ando works harder? Or goofs off most of the time?
You may believe that those who have 'made it' require less practice.
They require less work.
I have news for you.
Those Internet Marketers who promise you pinacoladas are jerks.
Those get-rich smarties are yanking your chain.
Those so-called jet-set merchants are working their tails off.
(Even the crooks, and scammers work like crazy to rip you off).
But they make it sound oh-so-perfect that you think that you'll have less work than ever before. That you'll no doubt struggle to the top of the hill— and then magically coast down.
Well, I have news for you again.
Getting down hills is harder than getting up.
And when you get down, you find there's yet another hill. And heck, there's a freakin' mountain range.
So is this meant to make you all depressed?
If you're a bit of 'wus', yes it will make you all depressed.
Because the truth is, that you won't stop working hard. In fact, you'll work harder. But you'll achieve the same task in less time than ever before. That you'll learn efficiencies that you didn't know existed. That your bank balance won't look anaemic for much longer.
And that if you give the hard work some time, and you smartly put aside the dollars, you'll indeed be able to travel on vacation several times a year, and eat, live drink well.
This crap about the easy lifestyle is just that: A whole load of crap.
Let me tell my story…
When I started out in business I struggled to write one article in two days. And at the end of the article, I'd kinda wheeze towards the finish line. If I ever got there, that is. I actually have an article graveyard with hundreds (yes, hundreds) of unfinished articles from the year 2002, 2003, 2004, 2005.
Then things changed
I started to write faster. And with more of a sense of structure. That sense of structure became the DNA of my articles. As a result of this systematic, day in, day out approach, I could formulate an article on the spot.
I could give a speech on the spot, based on my article writing. I could answer questions in great detail, and could do it in minutes, instead of days.
And then I found efficiencies
I found out the lousiest ways to write articles. I found the ways to write articles that got me all charged up (as I am right now) and bring in drama and emotion. And pathos, and frustration, and happiness and joy.
And God only knows what other emotion would charge through the door as I sat down to write. And so instead of writing one article a month, I now write 4-5 articles every day.
Yes, every day.
You think that's crazy?
I don't think so. Look at your driving skills. When you started out, how far would you go in your car? Did you get in a car the first time and drive in the Dakar Rally? Heck no. And now you're probably eating bananas and texting on your shiny iPhone while driving.
That doesn't mean your driving has gotten easier. It still takes all your senses and skill to avoid that jerk who zipped into your lane. It still takes one heck of a lot of skill to make sure you parallel park without chipping off the paint of the other cars.
It's not less work.
But yeah, you've gotten a lot better at it. More efficient too. And you don't swear as much as you used to, when you first started driving (well I trust you don't!)
And it's because you've put in long hours.
The top athletes in the world practice long hours.
The top artists in the world seem to be stuck to their palettes. The best speakers go over their material, time after time, after time. The best figure skaters do their routines hypnotically.
In fact, when research was done on the top figure skaters, here's what the researchers found. They found that the mark of the top skater is the ability to do their spins and jumps. And that the absolute crème da la crème skaters did more jumps and spins, when practicing.
The researchers found that the slightly lower-ranked skaters did just a little less practice. And took more breaks in between their jumps and spins.
So now you know the reality
The big hoopla about working smarter, not harder is a myth. It's always been a myth. The reality is different. Even the phrase is different.
It should read: Working harder, faster and better.
Because once you get to the pinnacle of your success (if indeed there is such a thing) you'll find 'working harder' is the real truth. So resolve to work harder from this day onwards, confident that the future is just as hard.
Yet kinda nice 🙂