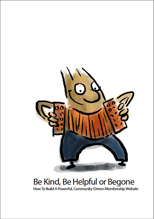 Here's an interesting fact.
In fact more than one interesting fact.
Fact 1: Why our community earns us between 90-95% of our income
At 5000bc, we have had a community since 2003.But that's not the interesting part. The interesting part is that we earn between 90-95% of our income from that community. And no, it's not because we charge a huge membership fee. In fact, it's very modest at just $259 a year.
But even that's not the most interesting part. The most interesting part is that we don't have thousands of members.
Fact No 2: We have pretty small membership numbers
Amazingly, we have just 450 members–despite being around 10 years.
And yet, these 450 members show up to all our online courses, our live workshops, buy a ton of our products. Often, you can't even get on a course, because the members have taken every seat in less than an hour.
So why does this information make a difference to you?
It shows you how you can start up your membership site with just a few members. And grow it from there.
We had humble beginnings
And we failed repeatedly–losing members 50% at a time.
That doesn't happen any more
10 years have taught us to not just run a community, but let the community run itself as well.
And that's what this announcement is all about.
Announcing a book on how to create your online community
It's not a book about search and destroy.
It's not a book about trying to maximise returns.
It's not a book about trying to set up stuff overnight.
Instead it's a book called: Be Kind, Be Helpful or Begone. And it's about building a warm, respectful and profitable community.
What's more is that you don't have to have a ton of folks
But I'll let you read one of the testimonials as they trickle in.(Yes, it's a trickle because the book has just been released and without all the hoopla).
Here's what Wyn Snow has to say:
"As a person with limited financial resources, I always stop and think before spending more than $15 in one sitting."
"My concern was: Will I find effective strategies for building a profitable membership site for fiction writers? I'd bought other products of Sean's before and I was pretty confident the answer would be yes, so I went ahead and plunked down my cash. And was not disappointed.
Sean's insights into the ingredients that build an online community were ideas I had never encountered before, not even in Sean's other writings. I found concepts he gleaned from his experience with 5000bc that I know I can adapt to the clients I have in mind. He also answered one of my biggest concerns in getting started: I basically have NO starting "list" of people to approach for membership.
What I liked best about Sean's Build an Online Community Membership Site book (aside from the cartoons) was the depth of his insight into why people join, leave, or stay — and the strategies that encourage them not only to join, but to PARTICIPATE and stay.
Several other great features were the illustrations — screen shots of the forums on 5000bc — and his honesty about mistakes he made along the way, plus sharing how the site started from very humble beginnings and has grown along the way.
I often recommend Sean's website, articles and books to others because of his insight into the human nature, and why we do or don't buy various things. And I also enjoy his quirky sense of humor (though his recipes are, I confess, too spicy for my palate)".
So there you have it.
It's not a cheap book. But you'll see when you read it, that it will rock your world. Better still, it will get you started, sooner than later.
So go ahead, have a look and judge for yourself.
https://www.psychotactics.com/products/membership-site-strategy
Warm regards from Auckland
Sean