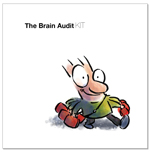 If you've ever wondered what it must be like to attend The Brain Audit Workshop,
wonder no more.
Because finally (yes, finally) here's The Brain Audit Kit–a compilation of goodies
that includes a complete workshop, ebook, epub (yes, you can read it on your smart
devices) and a bit more.
If you've never read The Brain Audit before, you'll need to see what's in this book that's
caused thousands of businesses to "sell without selling".  And you'll also realise why this
book has over 800 testimonials from businesses like yours all over the world.
If you have read the book, the goodies + the workshop is a steal.
But don't take my work for it. Check it out for yourself at:
Warm regards,
Sean
P.S. Get it right away, before Tuesday 13 August.