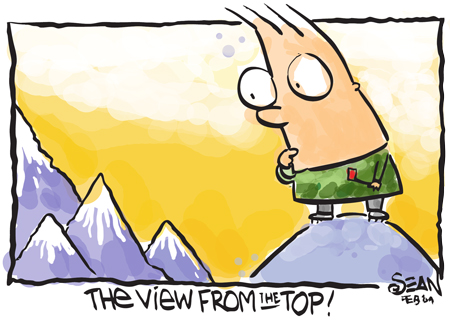 Imagine thirty thousand menacing obstacles in your path to success.
You're dehydrated. Hungry as hell. And wobbling like a drunk on too much Guinness. Your eyes hurt, your head throbs and your will is all but broken. You're not even sure you want to go on.
You feel like Frodo.
As in the character Frodo, in the final episode of the 'Lord of the Rings-The Return of the King.'
Terror and dismay gleam from Frodo's big, expressive blue eyes. In the distance, he can see his goal. But it seems to him like he'll never get there. He turns to Sam and says in a defeated tone, "Sam, it's the Eye," referring to the eye of Sauron – the enemy he must destroy.
And Sam turns to Frodo in a soft, encouraging voice and says, "Let's just get to the bottom of this hill, Mr.Frodo."
Let's just get to the bottom of this hill, Mr.Frodo.
I spoke at the World Internet Summit in Sydney, Australia, a few years ago. And I saw about two hundred and fifty Frodos in the audience.
Confused. Weary. Inundated with dozens of tactics and strategies about the Internet, their eyes stared into nothingness. Frozen stiff at the task of having to build an Internet business from scratch, almost all of them seemed to have a cross too heavy to bear.
And they didn't exactly have Sam to egg them on.
I said to them, like I say to you. "Let's just get to the bottom of this hill, Mr.Frodo." Then we'll do the next hill, and the next and the next, till we get to our destination.
You're bound to be struggling. I struggled at Yoga class. I'm a first-class doofus. Five minutes after we start the class, I wonder when it's all going to end. I look at the 'human pretzels' twisting and turning to the left and right of me, and I can't ever see myself being so flexible. And I despair.
But I've got my own personal Sam. I simply say to myself:"Let's just get to the bottom of this hill, Mr.Frodo"
And hurrah, yippeee yahooey, I actually made it past Yoga session No.2. 🙂
---
"Three-Month Vacation" Podcast

"Informative and entertaining at the same time. Just like Sean's articles. These podcasts are full of simple truths – the kind that you would think are your own ideas."

But it only seems so because of the clear and simple way in which Sean explains them.
For example, the first podcast illustrates the myth of the "Four-Hour Work Week". It's clear after listening to the podcast that one would crave to "get away from work" only if you don't enjoy your work.
But what if you went to bed each night thinking of finishing the cool stuff you were working on? Would you still want to "get away from work"?
Likewise, the podcast on productivity gives you a handful of tips you can implement right now to become more productive. Like the tip on keeping your work always open and available."
It's the best 15 minutes you can invest in yourself: Three Month Vacation
---