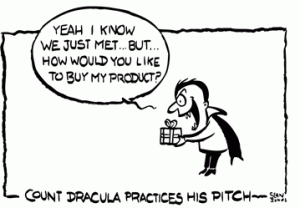 Read my lips.
No, not mine.
The lips of the customer. Here's one of three things customers are telling you, right after you've made your presentation about your your product or service.
Your product or service is boring.
Your communication is boring.
Where have you been all my life?
But they don't say any of the above lines
In fact, customers don't even expect you to pry the lines apart and read between them.
No, no, no, no, no.
In the attempt not to hurt your feelings, customers often use shorthand. A kind of code. The weird part of the code is that you're getting the completely wrong–and often quite the opposite message.
Smart folks such as you and I, end up with yolk, white and the rest of the barnyard eggs on our face, because we can't decipher the code. We think the customer means 'yes' when she means 'no'.
Shuckeroos, this gets weirder and weirder
You bet it does. Because when a customer is saying: "How Interesting," you think "Whoa! They think my stuff is interesting!"
Instead the customer is saying, "Where's my can of Raid, when I need one?"
So what's the Kiss of Death…
And how do you read between the lines?
Go through your core marketing message; your elevator speech; your audio logo and then wait for the response.
The Kiss of Death response is:
That's interesting!
That's nice.
Hmmm.
You've just hit the customer over her head with a giant sleeping pill. She's not the slightest big interested (either because she's the wrong target audience, or because whatever you've just said has done the ol' 'In one ear-and out of the other trick.' And all the time, the customer is smiling that cheesy lying smile, because she doesn't want to hurt your feelings.
You don't care about the touch-feely feeling stuff
All you care about is the sale. So how do you know if you're about to get lucky? She needs to say: "Where have you been all my life?"
But again, that's not what customers say. They revert back to their code. When they're really, really interested, they say, "Wow, how do you do that?"
How do you do that?
Aha, that's customer-code speak for "You've just knocked my socks off, and given me a wedgie. You've got my attention, now don't just stand there. I want to know more."
You've come back from the land of the dead.
Whatever you said, has installed a powerful trigger. A trigger that forces the customer to be interested. A trigger that slams dunks your product/service into the customers' brain and bypassed the pain of the kiss of death.
Your first step to increased sales is recognition
Listen for the words. If 'That's interesting,' 'That's nice' or 'Hmmmm' sneak in, you're in a doom loop. If the 'How do you do that?' pops up, you're well on your way to stardom and red carpets (at least in customer land).
Learn to read between the lines.
Watch the lips.
And if you hear the kiss of death, smile – and get back to the drawing board to refine your marketing message once more.
:next_step: