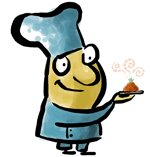 Dartboard?
As in darts and a dartboard?
Yes, exactly!
If you go to a bookstore and buy a dozen books on pricing, you will find pricing is some incredibly sophisticated system. You'll run into fancy and complicated pricing models that rapidly put you to sleep.
So is pricing simple?
Sure it is. You don't need a book to figure out pricing. A simple dart board and some prices on the board would solve your problem in a matter of minutes.
The price itself is of little consequence
What matters is all the stuff around the price. And in this three-part book series, you'll understand:
– The Psychology of Pricing (What Causes Us To Buy)
– The Method of Raising Prices (And The Mistakes To Avoid)
– Creating and Managing Price Expectations
No boring pricing models.
No ugh complication.
Just a simple, step-by-step system that walks you through exactly what you have to do.
Here's the page. Judge for yourself.
https://www.psychotactics.com/products/trust-the-chef/

Regards
Sean