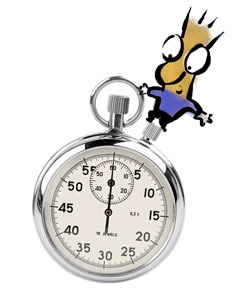 If you keep writing every day, you'll have a problem. You'll have more article ideas than you can write. Every day will sprout thirty-fifty new ideas that you can never turn into articles. But when you're starting out, this problem is quite the opposite.
You may wake up and can't think of a thing
Or you may be so tired that your brain refuses to co-operate.
So here's what you do next: You find a few books
You can do this offline, or online. But allocate a fixed amount of time. And here's how you go about it. Let's say I want to write about PHP. I know diddly squat about PHP. So that's the same as waking up and not being able to think of a thing to write.
So since the library is closed at this hour, I go online and look for a Dummies book
And I look at the contents page and voilà—there are a ton of topics just waiting for me. Not just topics, but subtopics. Yipeee-yahooey! Now I have my topics and my sub-topics.
But waitasec, isn't that cheating?
Isn't that plagiarism? Yes it is, if you copy the answers. Not if you copy the questions. The questions are simply the titles on the contents page. So let's say the titles were the following:
Understanding PHP Data Types
Building SQL Queries
Troubleshooting a PHP Script
Setting Up Your Computer for PHP and MySQL Web Site Development
Considering the Various Uses for the PHP Scripting Language
Keeping Up with PHP and MySQL Changes
Use PHP Statements to Create Programs
Communicate with a Database through PHP MySQL Functions
Access and Adapt a Database with MySQL Queries
Knowing the MySQL WHERE Clause Format
Make MySQL Database Changes with the ALTER Query
Special Characters to Use in PHP Expression Test Patterns
Now fifteen thousand writers can take the very same topics and no two articles may be the same. Why? Because you're going to approach the same questions from your level, your experience, your stories, your objections, your style. It simply cannot be the same.
And I found these points in fifteen seconds
You could spend hours trying to dream up the perfect topics and sub-topics, but they're all ready and formatted for you on the Internet—if you just look. So look. Set a timer, and then go for the topics. Cut and paste the topics and then it's time for outlining.
And by this time the expert in you can still be asleep
Because you're still not writing yet, and are in outlining mode, you're just having a party, by coming up with questions. So let me give it a shot with PHP (not that I know anything about it).
Building SQL Queries
What are SQL Queries?
What are the steps to building an SQL Query?
Where do SQL Queries mostly go wrong?
What are the practical applications for SQL Queries?
But surely we can do without SQL Queries…
Summary
Next step
Now if you're a PHP programmer, I'm betting that you'll be at least slightly interested in my questions. Some may be slightly off base, but most of them, when answered form a pretty good article.
But some answers may be too big. For example: Where do SQL Queries go wrong? So no problem. Just list the places where it can go wrong—yes, just a list. Then start up a new article called: Where SQL Queries go wrong and outline it—and phew—you have another outline!
Your topics and sub-topics don't need to be in your head
They can be on the Internet, in the library or in the contents page of every book on your topic (hey, there's this site called Amazon.com). If you want to write topics on starting a business, it's there. If you want to write on WordPress, it's there too. If you fancy gardening, kite building, even getting a divorce—it's all there on the book stores. And not just one book, but forty or fifty books.
Which is why you need a timer
Because you can get stuck there all night trying to decide which topics and subtopics to choose. One thing is for sure, though: You can be half asleep forever, and never have a problem when coming up with topics and sub-topics.
And that's just for starters. Once you start writing you'll have the opposite problem. Too many ideas and not enough time to write!
P.S. How do you generate ideas for your articles? Share your ideas here.
Product Offers: Links you should visit

---
"I wasn't sure Sean would have anything new to say or would offer
advice that would be easy to apply."

I was also concerned that I would be deluged with a lot of information and sales pitches that I would get overwhelmed and not be able to implement anything.
But after I checked out his site I was impressed by all the free offerings. And it seemed so well organized I didn't feel overwhelmed or confused. I tried a few ideas out and was so happy with the positive results that I bought the Brain Audit.
After reading (and re-reading!) the Brain Audit I felt like a blindfold had been lifted off my eyes. It made so much sense and I kept thinking how it seems so obvious but no one has ever put all the pieces together like this before.
I am happily communicating with patients much better, and attracting more of my ideal type of patient.
So if you want to break through to get better results and are willing to do a little painless work, then do yourself a favor and get the Brain Audit.

Tyme Gigliotti, Licensed Acupuncturist
Baltimore, MD, USA
Read more at https://www.psychotactics.com/brainaudit
---

In your small business, how can you get reliable answers to your complex marketing problems?
Find out more at https://www.5000bc.com/
---
Top Selling Products Under $50

---
1) You already know that 80% of a sales letter depends on your headline.
So what's the remaining 20% that causes customers to buy? Find out more
2) Do You Often Hit A Wall Called 'Writers Block'?
Learn how the core elements of outlining can save you from the misery of writing your next article.
3) Do you know that visuals immediately improve your sales conversion?
Learn how to create drama and curiosity and help improve your web page conversion with visuals.
4) Do your websites, brochures, presentations, etc… confuse your clients?
Put some sanity into your design, even though you are not a designer?
5) Chaos Planning
Year after year you sit down and create a list of things you want to achieve. Then suddenly it's April, and you've not really moved ahead as you'd expected.
Learn Why Most Planning Fails: And The Critical Importance of Chaos in Planning.
---
NEW PRODUCT! Learn How To make your Presentation stand out from every other presenter.
---
[next_step]