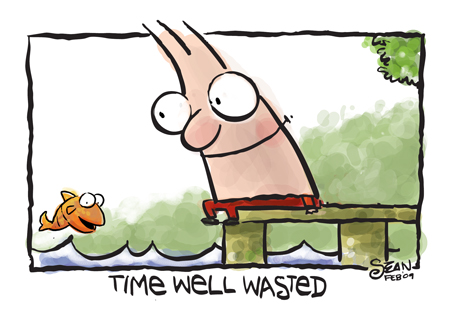 You probably haven't realised it.
But there's a difference between the two.
Time well wasted is a good activity.
Wasting time is a silly activity.
So what's the difference between the two concepts? And how on earth could either of them be 'good' activities?
Let's tackle wasting time
So I woke up today, and got to my computer at 5am (yeah, I slept in). And then I proceeded to check email, and Facebook, and Twitter, and some blogs. And then the clock just ticked over to 7:41am.
And what have I achieved? Diddly squat, that's what!
But have I wasted time?
Yes, I have wasted time.
And about two hours and forty one minutes later, this blog post is the first really productive activity in the day. On a normal day, I'd have finished about two articles, answered several posts in the forum, and be exercising and listening to an audio book or learning a language. Instead I spent all that time fluffing around on Twitter and Facebook—and God knows what else.
Now there's additional pressure on my day
Now I'm behind in a lot of stuff, because three good hours of the morning have been shot to hell. This puts pressure on my work day, and contrary to what you believe, pressure isn't always good. Wasting time has also not given me any sense of achievement.
And getting a sense of achievement first thing in the morning makes a far more productive day, than realising you've been up for three hours and done nothing. Or worse than nothing, because doing nothing is fine.
Doing nothing is called 'Time Well Wasted'.
This is the time when you plan to do nothing. You wake up with nothing on your mind.  You plan to do absolutely nothing. And this is a great plan, because it allows your brain to relax. Time well wasted is a concept that you should embrace heartily.
But wasting time is what most people end up doing…
They waste time because like me, they're so fragmented. They do a little of this, and a little of that. And before you know it, hours, days and months have ridden off into the sunset.
The most productive people on the planet also waste time, but because they plan well, it's more likely to be time well wasted.
If you're going to waste time, make it count!