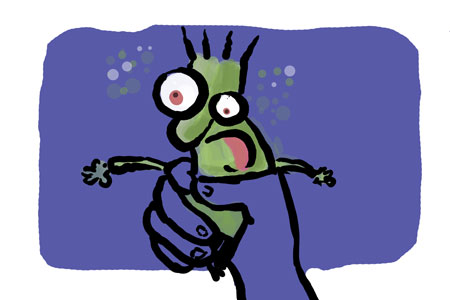 Imagine you went for a date with a person you hadn't met before. And your date wore a paper bag on his/her head. He/She refused to show you his/her face.
That date refused to tell you anything about his/her past.

Or let you into any information at all. And yet you had to give them information. Like your first name, last name, blah, blah, blah.

How do you feel?
Well that's exactly how the customers feel. They feel irritated, frustrated and to choose a mild word: trapped. They know they want the information, but they can't seem to get the any information from you without filling in that stupid form.
Squeeze pages are stupid
They are contrary to human nature. They force you into a corner. They force you to part with information based on some random headline and bullet points.
So why do we have so many squeeze pages on the Internet?
Why do people catch colds and coughs? Yes, one person has it, and then it spreads. One person put in a squeeze page, then everyone else decided to follow suit. And don't get me wrong.
Squeeze pages work. They work wonderfully.
Well, so does Bruno, who's six foot nine inches and weighs 400 pounds.Just because it works doesn't mean you have to follow suit.
Because there are other things that work.
Like non-threatening, non-Bruno, no-squeeze pages.
Pages that get you to sign up not through intimidation and fear. But pages that get you to sign up because you want to do so.
Because persuasion is stupid. Persuasion implies that you acted against your nature. And why get customers to act against their nature when they will gladly give you information?

A good opt-in page should entice.
It should give you lots of details.
It should answer your every question or objection.
It should not make you feel icky, like being on a blind date.
At Psychotactics, we've collected names, addresses, home numbers, postal addresses, mobile numbers, city, country on our opt-in pages.
All without twisting anyone's arms. We've done it to entice customers to subscribe to the newsletter. Or to opt-in to a workshop. Or to buy a product or service.
Our customers give us bucket loads of information, because they trust us. They believe in us.
They know they're not on a yucky blind date.
I'd rather have that kind of customer, wouldn't you? Sure beats being squeezed!
Next Step: Read More Psychological Tactics? Subscribe : Get UpDates via RSS | Get UpDates via Email (Fill in your details in the top-right hand form)