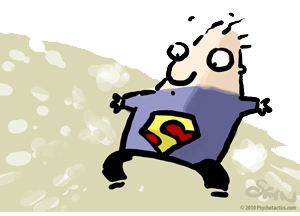 Elston.
Does the name Elston ring a bell?
Probably not, huh?
That's because of something that happened in 1933. You see, Elston was a quiet little town in Queensland, Australia. Sure it had a few shops, and a slightly worn down hotel, but there wasn't much that would get anyone's attention. Of course this didn't sit well with the local councillors. They decided something had to be done to change the image of the place.
So they simply started with the name
But even there they were stumped. How do you rename a place and make it sound interesting? At this point someone decided to name the place after the local hotel—which just happened to be named Surfers Paradise.
Today, Surfers Paradise is well known across the planet—and notice something—nothing really changed that much
The beach was the same, the waves, similar. Yes, now there are a line of monstrous array of buildings that line the beach, a ton of shops and an unending flow of visitors that tremendously boost the local economy. And it all started out with a bit of packaging. The packaging was simply to change the name, and banish Elston from living memory.
Villa Maria Wines had a similar clean up act
Today, Villa Maria Estate is New Zealand's most awarded winery. And their flagship wine is Villa Maria. Well, Villa Maria wasn't always the poster girl of wines. In fact it was struggling. New packaging came to the rescue, while the wine stayed pretty much the same. And voilà, today we have a bit of a success story, no?
So does the old wine in new bottle work for any flagging brand?
You'd think so, right? I mean these brands weren't exactly doing too well before they were rescued by some interesting branding. And yet the problem was not so much the brand, but the way people perceived the product, service or location. To give you an example, here's what you need to do. Take your website or blog (no matter how good or bad it is) and format it like how websites looked back in the year 2000.
Instantly you have a massive problem
No matter what you're selling at this point, your sales will tank. Customers will pop in and pop out of your site faster than you can imagine. Now notice that not a lot has changed. It's still the great content, it's still the nice images, but the packaging alone drives customers away.
Content may be king, but packaging is emperor
So what steps can you take to improve your packaging? What are the benchmarks you need to put into place to make sure you're not needlessly putting off customers? Here are three elements to look into:
1) Product or service names
2) Is your product/service consumable?
3) Is your product/service looking dated?
1) Product or service names
When you launch a product, service or even business, it's likely that you'll put a great amount of time and effort into finding a name. And yet, in retrospect, that name may not be as shiny as it seems.
In 2000, when I first started my business (and website), I called it Millionbucks. Crappy name, right? Well, I didn't think so. I got a designer to work on my logo, got some amazing cards and letter heads. And it's not until I changed the name to Psychotactics that people around me told me how "crappy" the Millionbucks name was, in the first place.
Some names are good right from the very start. Some aren't so great. At Psychotactics, we've had to go back and look at our names from time to time. Names of products, services, workshops—even the names of our websites. And we've learned from our mistakes. We ask clients for their feedback. When specifically asked if a name needs to be changed, clients will give you their suggestions. And so you should ask, and change the name, if necessary.
But that's not the only form of packaging. The second and extremely vital form of packaging is testing for consumption.
2) Testing for consumption
What is design? Design may seem like the way things look, but in fact it's also the way things work. When you first wrote your book, or your manual, you may have had a limited range of writing skills. Since then you've grown and so has your audience. It might be possible to sell older, not-so-great stuff to your audience, but it does you no good. You need to go back and see if your material actually gets the client to slip-slide from start to finish.
And of course, the only way to find out whether your product is consumable is to ask for brutal feedback. If you want pats on the back, well, that's nice to cheer up your day, but if you're a professional, you'll look for the holes in your material. You'll want to fix it so the client gets to the end of the product instead of abandoning it along the way. So ask your clients: Where do they get stuck? What do they think you need to put in to move them forward? You'll be surprised at how many suggestions come your way.
When we wrote the first version of The Brain Audit, it was decent. But we're now on Version 3.2 of The Brain Audit. Why is that the case? Yup, clients have suggested changes, we've grown a lot and so the book has evolved and become better with every version. And that takes us to the third part: Is your material/website looking dated?
3) Testing for datedness
Look at the navigation bar on your site. Notice how most sites today don't have that extra skinny navigation bar? That's because styles have moved on a bit. At Psychotactics, we're still holding on to that skinny navigation bar, and it's time to change. The same applies to certain products or services, which have simply dated over the years.
We used to have a series called "Website Secrets", a $2500 course called "Infoproducts course". If you go to our product pages, you'll find they're no longer for sale. Is this because clients complained about the product? Not at all. But you need to evaluate your products (and services) from time to time for datedness.
As a result of looking back at our products, we created "Website Components" (which sold and continues to sell very well, thank you). And the information products course is going through a complete revamp, including a workshop in Vancouver later this year. Notice that it is a bit of hard work to axe all these products and services, but in renewing them or creating them afresh, we're also attracting newer clients and generating income.
Again, the best way to go about cleaning up your products and services is to ask clients for brutal feedback. And then it's time to go fix your stuff.
But don't get into the sake of packaging for packaging's sake…
Packaging can quickly suck you in like this year's fashion. You may suddenly want to make changes for change sake, and while it all looks nice and contemporary, packaging is a very costly exercise in time and money. So yes, make sure you do an audit on your products and services. Audit the names, how consumable they are, and if they look and feel dated.
Elston was once a sleepy place
Villa Maria was once a sleepy brand.
Website Secrets slowed down on sales until we worked on a new product like Website Components.
Packaging is profitable. And needed
You don't want to end up with an Elston—or God forbid—Millionbucks brand, do you?
 Do you know—Why Clients Buy And Why They Don't? Read this except on—The Brain Audit and find out why customers put off buying your product or service.