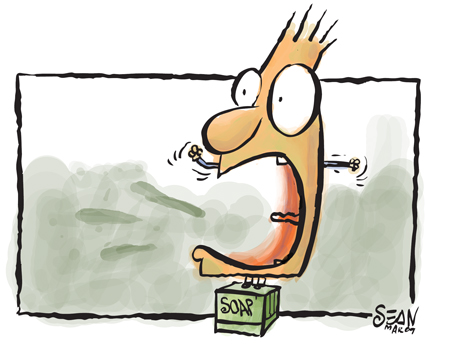 If my estimate is right, you should be reading this blog about the exact time I'm speaking in Chicago (at the System Seminar).
And my presentation is about 'How To Increase Prices (Without Losing Customers)'.
So what's philosophy got to do with conversion?
And should you put in philosophy into a conversation with clients?
That's what I do…
I'll spend about 10 minutes (which is a good chunk of time) talking about our philosophy. And it sets the tone for what's to follow.
And so sometimes, it's needed to bring perspective on what's happening. And for people to understand that to me, New Zealand, hard work, the fact that I don't believe in talent at all. They need to know that I work so I can have a decent, stress-free life—and not one where I'm simply counting dollars—and Twitter followers all day.
But some days I'm just ranting.
I find that people are stupid about stuff (and I chose that word 'stupid' carefully). And that while I can't fix the stupidity, someone has to do so. That maybe they won't pay attention to me, but somewhere three-four rants later, the idea sinks in. I'm really not looking for conversion per se, when I share my philosophy. If it happens, that's nice. But what I'm looking for is for people to know that their are people like me out there.
People like me who don't give a damn about owning a yacht.
People like me, who won't slit their wrists if they don't reach a pre-arranged profit level. People like me, for whom the joy of sitting around leisurely sipping a coffee is reward enough.
I've stopped trying to persuade.
Persuasion is the science of getting you to act on the basis of pressure. I think education is enough. I simply state what is on my mind. And the real goal for me is to do what I want to do. For me to live the life that is driven by the brain, not by the wallet. And for others to know that there is life beyond the crazy dollar signs.
So yeah philosophy works.
It attracts customers who subscribe to my way of life—because in essence it's their way of life.
And it drives away the rest.