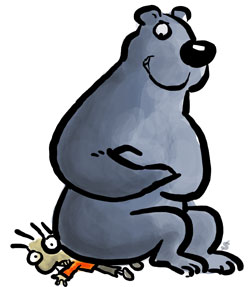 In the year 2007, the rock band Radiohead did something really unusual. They gave their customers the chance to pay whatever they wished for the album. If you wanted it free, it was yours to have. If on the other hand you wanted to pay a few bucks, well, that was your prerogative as well.

And guess what happened next?
Radiohead fans went wild, despite the fact that the downloads weren't CD quality. So how much did Radiohead make from the 'pay as you like' concept? Radiohead won't say. So why won't they say? We don't know the answer for sure, but this much we know: Without a price tag, you're giving a customer more stress than that customers needs or wants.

And here's why a lack of a price tag drives customers crazy
Imagine you're in the supermarket. And you have five thousand items to pick from. And every item has a 'pay as you like' tag. So how do you decide how much to pay?
Immediately confusion sets in, because prices are impossible to gauge. So as you head through checkout—and if you're kinda ethical about your purchase—you'd have to work out every single price in your head. Then the check out person would have to punch in every single price. And the lines would extend forever.

Products without price tags set off a dilemma in our overtaxed brains
Are we paying more for a product or service? Or are we paying too little? If we pay too little, the company producing our favourite brand will soon go out of business and we won't get our favourite stuff.
So that's not much good. But what if we paid more? That's kinda stupid too, isn't it? So the best recourse would be to pay the right price.

But what's the right price?
It's impossible to tell, isn't it? So incredible as it sounds, the customer does what most Radiohead fans did. They just downloaded the product absolutely free.
And we know this for a fact, because despite the product being freely available on Radiohead's own site, the downloads were largely through the bit torrents. Ironically downloaders were stealing free music. The 'pay as you like' experiment didn't seem to be working so well, after all.

But surely 'pay as you like' prices work
They do, but is it profitable enough for you as a service provider to keep playing this game of pricing roulette? You're not only confusing the customer, but now have the hassle of working out when at which point the customer should pay.
Should they pay before they use your products—or after? And what if they don't use the products at all, simply because they feel it was 'free'? Do you still nudge them to pay, or leave them alone?
Pricing exists for a reason

It saves us the mental burden of having to calculate value—and hence pricing. It helps us make reasonably quick decisions. And it helps you stay profitable—if you price your products and services correctly. And even Radiohead had a plan that involved pricing.
Right after they gave away their product, they also put out box sets, CDs, vinyls and high-quality digital downloads. And there was a specific price on every product, some products ranging as high as $80. They sold 100,000 (or more) of the box sets and did over three million product sales—all with a price tag.

You're no Radiohead.
You don't have a huge following.
You can risk the 'pay as you like' concept, and for the most part you'll find that it buys the beer, but won't pay the bills. And certainly won't get you the three-month vacation.
Pricing exists for a reason. Bite the bullet and charge the price. It's a far sounder strategy for you—and your over-taxed customer!
Pricing: Should You Allow The Customer To Decide? Share your thoughts here.
Product Offers: Links you should visit
---
"

Before I read the Brain Audit, I felt like I didn't know what my marketing materials, sales pages, tag lines, and headlines were aiming to achieve."

I'm another one of those who saw Sean around here and there and I really respected his cut to the chase teaching style.

What an eye opener! The Brain Audit broke the sales process down into a series of steps that make so much sense. But don't be fooled by the simplicity. There's a lot of work to be done, but I get it now.

After the Brian Audit I feel like I have the inside scoop on these tools  and a much, much better grasp on how to use them.

Thanks Sean, and the chicken recipe is a plus too."

Cassandra Truax, Worm Rancher
San Antonio, TX, USA

Find out how —The Brain Audit can help you
---
"I was wary of signing up and paying for a forum or another membership site"
"If you suspect that your business could be bringing in a lot more revenue but you don't have a clue how to make that happen without hype or hassle, 5000bc is a must-have resource.
"I honestly didn't see what 5000bc could offer me that I couldn't get from Sean's books. Besides, how could a bunch of people – most of whom are not business experts – help me build my business?"
I joined anyway because the price was right and I wanted the information that came with the premium membership. 😉
The information and support I received from Sean and my fellow "cavers" about a single Web page was directly responsible for selling $10,000 worth of books in less than two weeks.
Unlike many Web communities, 5000bc members are active and to the point. Sean keeps adding content that drills down to specific problems in business and then shows you how to solve them.
Try it. You won't regret it."


Molly Gordon, Master Certified Coach
Shaboom Inc, USA
Judge for yourself—How 5000bc can make your business succeed.
---
Products: Under $50
NEW!
You already know that 80% of a sales letter depends on your headline.
So what's the remaining 20% that causes customers to buy? Find out more
1) Do You Often Hit A Wall Called 'Writers Block'?
Learn how the core elements of outlining can save you from the misery of writing your next article.
2) Do you know that visuals immediately improve your sales conversion?
Learn how to create drama and curiosity and help improve your web page conversion with visuals.
3) Do your websites, brochures, presentations, etc… confuse your clients?
Put some sanity into your design, even though you are not a designer?
4) Chaos Planning
Year after year you sit down and create a list of things you want to achieve. Then suddenly it's March, and you've not really moved ahead as you'd expected.
Learn Why Most Planning Fails: And The Critical Importance of Chaos in Planning.
5) Nothing bugs you more than a painful client.
A client who hassles you at every step of the way. Learn how to use the power of the 'six critical questions' to get incredible testimonials—and attract clients that make every day an absolute joy.
---
NEW PRODUCT!
Black Belt Presentations: How do you create presentations that enthrall, hold and move an audience to action?
[next_step]