---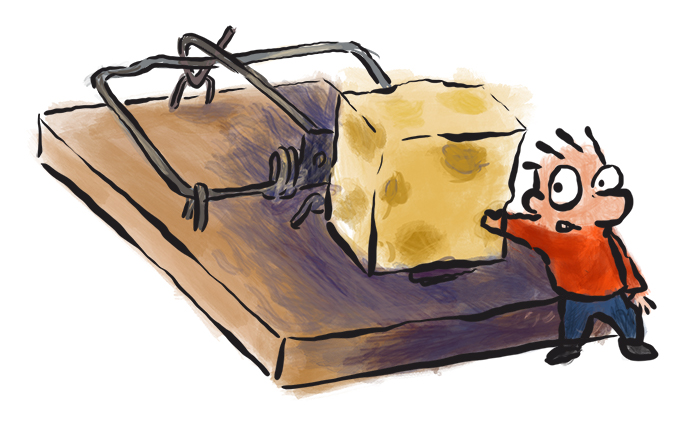 The Cheese story
Would cheese be mistaken for explosive at an airport?
As we were headed to India, Renuka asked my mother what she'd like from New Zealand. "Cheese. New Zealand cheese, would be nice," said my mother. And so it began, the story of the cheese.
As we flew through from Auckland to Singapore, we kept the cheese refrigerated as far as possible. And yet, when we got to the north of India in Jodhpur, Rajasthan, there was no fridge in the room.
Which is fine with both us
Having fridges and TVs in a room is excessive when you're on holiday—at least that's our belief. Which is precisely why the cheese was kept in the fridge in the hotel's kitchen. "Don't forget to take your cheese when you're leaving for your next destination," said the manager.
Would cheese be mistaken for explosive at an airport?
Our car ride was early at 8 am, and we were more focused on breakfast. In India, all meals, breakfast, lunch and dinner are special. There's no smoothie, rushed breakfast. Smoothies are what you're likely to drink on a hot summer's afternoon, under an umbrella.
I once looked up "Indian vegetarian breakfasts" and expected to find about 150. Instead, I found over a thousand recipes—just for breakfast. Which is precisely why we had to go through the breakfast. Aloo paratha (that's a sort of roti with embedded potato), masala chai mingled with Rajasthani garlic chutney and other yummy breakfast dishes.
We did justice to breakfast, snapped a few last minute photos and we were off to Udaipur, about 5 hours away, blissfully unaware of the cheese. Half way into our trip, the phone buzzed, but there was no way we were going to turn around to recover two slabs of cheese.
"But it's for your mother," said the manager. Yes, it was for my mother, but these things happen. We had other things we'd brought for her. I was sure she wouldn't mind if the cheese didn't come along for the ride.
The manager was pretty sure I had the wrong priorities
"I'll send it to you", he messaged me. "Give me a couple of days". He knew from our brief interactions that we are travellers, not tourists. When we get to a location, we tend to stay there for a week. We almost never go on any tours, and forego the Instagram sites with a passion.
Instead, we explore the villages, meet with people, spend time exploring the culture, and yes, buying cutlery. No matter where we go, we end up with forks, spoons, ladles, and all sorts of cooking utensils. We've got stuff from Tokyo, from San Miguel, (Thanks @marina), Dryos in Greece and pretty much any place we've been to on our travels. The manager had time to get the cheese across to us, and get it across he did.
Two days later, the cheese arrived
Not with a courier, but a driver. Obviously the driver hadn't made the trip just for the cheese. He was probably headed to Udaipur anyway. Even so, we weren't exactly in the city but a good half hour away in the country.
Two slabs of cheese were tightly wrapped together and sent in a coolant bag. So much effort had been put into getting this cheese to us that we had no choice but to make sure it got to my mum. Multiple alarms were set so that on the day of our departure we wouldn't forget the cheese.
But the cheese had one more hiccup for us
We had it in hand luggage as we made our way to Goa, and as the bag went through security check, it was flagged. "What's in the bag"? asked the security guy through his mask. We had no idea he was referring to the cheese.
"It's a big block of something", he said grimly. "Oh, that's cheese". I don't know what it must have looked like to him on the scanner, but he got it out of the bag, ran it through an explosives test before handing it over to us to take on our onward journey.
Mum got the cheese. She doesn't know the story yet. But I'm sure the cheese will taste a lot better once I tell her.
Next Story: India Travel Stories: The Cashew Nut story
---