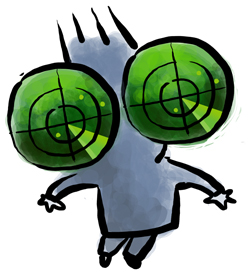 When companies from the West first visited a de-regulated India, they were licking their fingers in anticipation. For India was a country of almost one billion people (well, it is over one billion now) and these companies could just see dollar signs no matter where they went. But sheer numbers doesn't make for sales.
And many companies burned themselves trying to get off the ground, because the vast majority of people simply couldn't or wouldn't buy their products. They learned, after a lot of trial and error that sheer numbers don't mean a thing.
The same applies to determining if you have a viable niche
It's impossible to know at first if what you're doing is going to be successful. So you look for one big factor: competition.
Huh? Competition?
Yes, competition. If you can find a ton of competition, then you know it's extremely viable. Why? Because a whole truckload of people have been there before you and have found it viable to keep running their businesses. But just having that truckload still isn't the best denominator, so you go even further.
You subscribe to their list. You see what they're doing. Are they selling higher priced product and services? Or is it all discount priced? If you sniff some higher prices, then you know for sure that there is a market, and a high price market too. If that high price continues over the years, then you know for sure that it's sustainable.
This isn't a foolproof method
You're looking in from the outside, so it's hard to know for sure what profits etc, exist in the business. But at least you know it's viable.
This is how I got into marketing
You see I was indeed fascinated with marketing, but fascination isn't enough. The book that nudged my life in a different direction was 'Good to Great' by Jim Collins. And in this book, there was a concept called 'The Hedgehog Principle'. And the principle consisted of three questions.
1) What can you be the best in the world at?
2) What drives your economic engine?
3) What are you deeply passionate about?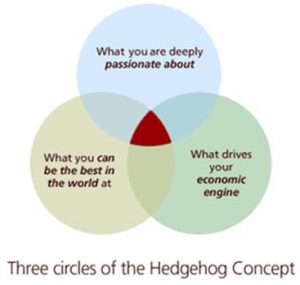 So I was passionate about marketing, and could easily be the best in the world at it (if I started, which I did). But the third question is the one that the companies that came to India never answered. And that is: What drives your engine? How viable is this niche?
And the answer must come from the market
The more competition that exists, the more viable the product or service. Which means that if the market is saturated with fad diets, you have more of a chance of writing a bestseller with a fad diet, than with a rigourous lifelong diet. If TV is swamped with reality shows, then you're better off making yet another—yes, another—reality show.
And back to my story: At the time, people like Jay Abraham were selling single seats at workshops for $5000. I went to workshops that were priced at $10,000. All around me I could see clearly that people were selling product both offline, and shortly after, online too. And for pricey sums too.
And price is a good benchmark
That high price factor shows that not only does the market exist, but it's a mature market allowing for pricier amounts as well. And there's another thing about the high prices. It allows smaller players to co-exist.
If everyone is discounting each other in a tiny market, then you struggle to get off the ground. But if there are several layers of pricing, it's a lot easier for you to not just get into the niche, but slowly power your way up as well, if you wish.
But what if you don't want to follow the crowd?
Well, that's noble, but the pioneers always get the arrows. This means you have to educate the market and that takes a lot of time and effort. And of course, money. It's a lot better to follow the crowd (read: competition) and start off there, and then later, once you've got enough of a following, branch off where you will.
Big companies can burn through tens of millions of dollars, and not feel so much as a twinge.
You can lose a lot less and run into serious trouble. It's better to start with the competition.
It sure saves having to stock up on all the anti-burn lotion.
P.S. Do you have a question or comment? Write it here and I will respond.
Product Offers: Links you should visit

---
"I wasn't sure Sean would have anything new to say or would offer advice that would be easy to apply."

After reading (and re-reading!) the Brain Audit I felt like a blindfold had been lifted off my eyes. It made so much sense and I kept thinking how it seems so obvious but no one has ever put all the pieces together like this before.
I am happily communicating with patients much better, and attracting more of my ideal type of patient.
So if you want to break through to get better results and are willing to do a little painless work, then do yourself a favor and get the Brain Audit.

Tyme Gigliotti, Licensed Acupuncturist
Baltimore, MD, USA
Read more at https://www.psychotactics.com/brainaudit
---

In your small business, how can you get reliable answers to your complex marketing problems?
Find out more at https://www.5000bc.com/
---
Top Selling Products Under $50

---
1) You already know that 80% of a sales letter depends on your headline.
So what's the remaining 20% that causes customers to buy? Find out more
2) Do You Often Hit A Wall Called 'Writers Block'?
Learn how the core elements of outlining can save you from the misery of writing your next article.
3) Do you know that visuals immediately improve your sales conversion?
Learn how to create drama and curiosity and help improve your web page conversion with visuals.
4) Do your websites, brochures, presentations, etc… confuse your clients?
Put some sanity into your design, even though you are not a designer?
5) Chaos Planning
Year after year you sit down and create a list of things you want to achieve. Then suddenly it's April, and you've not really moved ahead as you'd expected.
Learn Why Most Planning Fails: And The Critical Importance of Chaos in Planning.
---
NEW PRODUCT! Learn How To make your Presentation stand out from every other presenter.
---
[next_step]