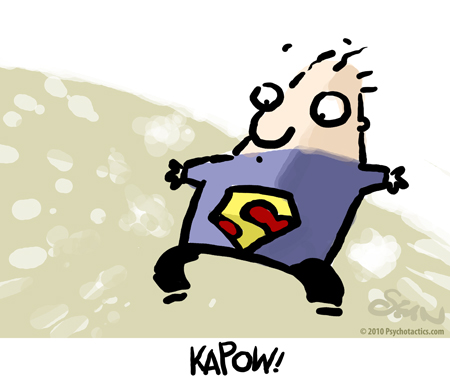 You're watching TV. It's Extreme Makeover time.
They take this wallflower-looking person.
And they cut. And they snip. Boy, do they tuck! And about 2 weeks later, the Extreme Makeover artists transmogrify their subject into a work of captivating beauty.
You watch and say, no…can't be…can't be the same wallflower. Ah, but it is. So what say we have the same kinda fun? What say we do the Extreme Makeover on that darned email signature of yours. Yeah, yeah, the one that kinda hides under a bushel every time you send out an email.
And what say we do the makeover without all the cutting, snipping, tucking and la-dee-dah!
Ready for the Extreme Email Signature Makeover?
You bet you are! And best of all, there's little or no creativity involved. In fact, you'll need to look no further than at an article you've written, to get all the inspiration you need.

So what should you do?
Just paste your entire article in the email signature?
No, no, no. Pay attention dah-ling! We're creating magic. And for magic, you need to know the tricks.
Stick with me, and you can learn how to have dozens of instant email signatures, based on your articles, in three easy steps.
So what are the steps?
Step One: Find an article you've written.
Step Two: Create an excerpt.
Step Three: Insert drama.
Step One: Find An Article You've Written
Just step back in time to your article archives, and pull out an article you thought was pretty cool. Or which customers thought was really thought-provoking. But hey, don't take all day. Just find an article that works; don't aim for perfection.

Step Two: Create a Summary of the Article
I went and pulled out an article that spoke about PowerPoint. And sat down, and kinda summed up what the article was all about. The core of the concept was how some PowerPoint presentations work so much better than others. And how other PowerPoint presentations just bore you to tears.
So boof… I now had my summary in a few lines.
But what's next? Why it's time to insert some drama, of course.
Step Three: Inserting Zee Drama
To insert drama, all you have to do is hit on the customer's biggest concern. In this case, the customer's real headache is giving a presentation that's boring. So I have to make sure I get the 'problem' smack in the middle and create intense drama.
And about fifteen seconds later, I have my signature:
Can PowerPoint Presentations Rival TV Ads? Ever wonder why some PowerPoint presentations are head and shoulders above others? Why do some have amazing powers of persuasion while others simply bore you to death? Here's the secret to PowerPoint pizzazz. Psychotactics.com/artpowerpoint.htm
Notice the flow?
You create the drama by running sequential problems and solutions. And then you drop a dollop or two of curiosity.
But remember, the curiosity effect is kinda like a bikini. What it reveals is interesting, but what it hides is vital.
In fact, you'll learn about curiosity, by learning what's not curious. Of course, nothing like a few examples to show you how it all works, right?
Examples
This is Mark Silver's older signature file. Notice how the newer one below has punch and vivacity, as compared with the old one.
Older Example:
——————
Making a difference and making a profit in business.
If you are in business, make sure you get our free newsletter:
Business Heart. It's full of creative thinking, inspiring stories, and practical, grounded steps on how to make your business profitable, serve the world, and keep your heart.
When you subscribe, you also receive a free 3-chapter workbook excerpt from the book, "Unveiling the Heart of Your Business, How money, marketing and sales can deepen your heart, heal the world, and still add to your bottom line."
Please come get them both: at heartofbusiness.com
——————
And the Newer Examples:
——————
Example 1: In running your business there are things you love to do, and things you don't…
Wondering how to hand off your most hated business tasks?
Read this article:
heartofbusiness.com/articles/2006/Apr19.htm
——————
And another new example:
——————
Example 2: Ugh! Sitting down to pay the bills, balance your accounts…
Is there an antidote to the money grumblies?
The Kitchen Table Financial Summit
heartofbusiness.com/articles/2005/July28.htm
So what changed in Mark's signature files?
1) Instead of a long-winded signature, his signatures are short, and evocative.
2) There's a clear problem; a clear apparent solution; and lots of curiosity.
3) The signature file now has one thought, instead of half a dozen 🙂
4) And best of all, it teeters on the edge, forcing the curiosity factor in your brain, and making you want to go clickety-click right away.
The best part of all is you never have to put up with drab, wallflower signature files. All you really have to do is let your article create the direction, and you'll have a signature file 90% done–the moment you finish your article. Then add the curiosity, and you're ready to run.
And voila, you have your Extreme Email Signature Makeover. Yeah, just like that! And without the la-dee-dah!
(Sean's Note: Thanks Mark Silver from heartofbusiness.com, for permission to use the before/after version of your signature files).
Next Step: Want to learn more about website marketing? Find the entire website marketing series in text, audio with cartoons!
Subscribe : Get Updates via RSS | Get Updates via Email (Fill in your details in the top-right hand form)