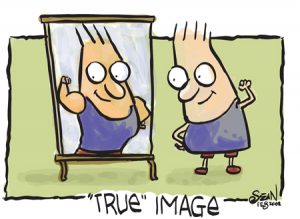 Ronald was a good friend of mine. And Anita was his girlfriend.
Well, not any longer. She was now his ex-girlfriend.
They'd split up. And I got asked for my feedback: "So, what did you think of her, anyway?" Well, I told him what I thought about her.
Did you ever get the feeling of putting your foot in your mouth?
Well that's exactly what happened. The two of them got back together again, got married, and guess who wasn't invited to the wedding.
Welcome to the crummy side of feedback
When people ask for feedback, you're never really sure what they want. Do they want you to tell them the truth? Or would they just prefer to hear some sugar-coated lies instead? Because the truth is that most of us just don't want to hear what we're doing wrong.
And we know this to be true, because the moment someone starts to us give feedback and keeps at it, there's a sort of boiling point. A point where we just want the other person to shut up.
And yet shutting the other person up is the worst thing we can do
Because now you've lost the chance to have your mistakes analysed. And that's just fine if you don't plan to build on your talent. Because when you think about it, talent is simply the reduction of mistakes. But now, because you have no external feedback, your progress is going to be painfully slow.
An outsider can spot way more mistakes than you can, simply because you're too close to your work. To improve dramatically quickly, you need to make hundreds, even thousands of mistakes. And then of course, it's time to fix those mistakes based on the feedback.
What's interesting is that this feedback is very useful to the giver as well
If the giver of the feedback is learning a similar skill as you, then the feedback helps the giver as well. When they criticise your work in any way, they are almost always reminding themselves to fix their own work.
So for instance, if I'm teaching someone how to improve their 'bonuses' on the copywriting course, I will almost always be thinking of what I've done, where I've gone wrong, and put a marker to make sure I get it right in future. When I give feedback, invariably I'm learning as well.
But what if you don't react well to feedback?
Feedback is never, ever, ever, ever, ever nice. That's because feedback is about exposing your flaws and then rubbing some salt in it for good measure. Feedback always feels crummy, no matter who you are, or what you've done in your life.
And if you let feedback tilt you into a whirlpool of depression, then you're in a lot of trouble. Feel bad, mumble, grumble, even curse if you like. But then take the feedback and fix the issues.
And it's not like you have to fix every issue
There are times when you may not agree with the feedback. Or you may want to fix things but it's impossible to fix—for whatever reason. And that's fine too. Fix whatever you can, and move on.
You have to ask yourself: Am I ready to move on?
If you are truly ready to improve yourself, then ask for feedback and take it without mumbling. In fact, beg for more, because it will help you fix those mistakes a lot quicker than if you plodded your own path.
And please don't drop hints for the giver to tone down the feedback. Because all you're really doing is forcing the given to clam up.
And remember that while we're all reluctant to give feedback at first, we do so happily once given the permission. And this is because when we give feedback, we learn as well.
So what's your next step?
Do you want to get some genuine feedback? Well, if that's true, get yourself prepared, because the crummy side of feedback is coming your way. Brace yourself. It's the best—and worst— thing that's ever happened to you!
P.S. What are your views on feedback? Share your ideas here.
"What do your customers think? What would make them buy?"

In the Brain Audit – Sean teaches 7 steps on how to form killer communication pieces that makes people buy from you. The Brain Audit is a simple psychological system that everyone can use in their communication to increase their profits.
Ankesh Kothari, Adventures of a serial entrepreneur, India
Judge for yourself:The Brain Audit: Why Customers Buy and Why They Don't
---
---
"If you suspect that your business could be bringing in a lot more revenue but you don't have a clue how to make that happen without hype or hassle, 5000bc is a must-have resource.."

The information and support I received from Sean and my fellow cavers about a single Web page was directly responsible for selling $10,000 worth of books in less than two weeks.
Try it. You won't regret it.
Molly Gordon, Master Certified Coach
Find out more at https://www.5000bc.com/
---
Top Selling Products Under $50

---
1) You already know that 80% of a sales letter depends on your headline.
So what's the remaining 20% that causes customers to buy? Find out more
2) Do You Often Hit A Wall Called 'Writers Block'?
Learn how the core elements of outlining can save you from the misery of writing your next article.
3) Do you know that visuals immediately improve your sales conversion?
Learn how to create drama and curiosity and help improve your web page conversion with visuals.
4) Do your websites, brochures, presentations, etc… confuse your clients?
Put some sanity into your design, even though you are not a designer?
5) Chaos Planning
Year after year you sit down and create a list of things you want to achieve. Then suddenly it's June, and you've not really moved ahead as you'd expected.
Learn Why Most Planning Fails: And The Critical Importance of Chaos in Planning.
---
The Black Belt Presentation Series: Learn how to make your Presentation stand out from every other presenter.
---
[next_step]