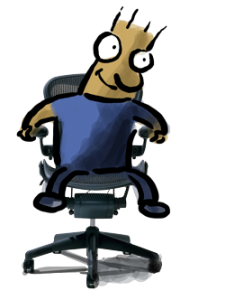 Around the year 2006, we used to have free seminars.
Monthly.
We had room for 40 people
And 40 people would show up. Every single time. Not always the same 40 people, but the room was always full.
The interesting thing about these seminars, is that we weren't selling anything
We weren't upselling anything. We didn't have leaflets. There was no mention of Psychotactics at the seminar. No products, no catch, nothing. The seminars were purely altruistic. We wanted to give back to the community that helped us when we got to New Zealand.
But it was irritating to watch how people would show up, or not, depending on the weather. Or depending on some silly excuse.
It's not like we didn't have a penalty
We had two lists. One was a premium list. They got the first opportunity to get seats at the seminar. If you attended the seminars you signed up for, you'd get to stay on this premium list.
If you didn't show up, you'd get bumped off into the not-so-premium list. And stay there until there was space on the premium list. And so, people mostly made sure they stayed on the premium list.
Now, as we mentioned, there was no price
Well, not for the participants anyway. We had costs. We rented the room (the cost was over $1000 per year), we got our equipment. Both Renuka and I had to take time out of our very busy schedules to get prepared and head to these seminars. And as you probably know, even a 1-hour seminar takes about a day of preparation and execution when you add the hours and recovery time.
So if you had a full house would you continue the seminars?
Most people would. We didn't. We realised that 'free' is a poor incentive. Most of us jump at the thought of how free attracts, but free is only a great attraction and conversion device. It's not always a great consumption device.
And consumption is where things are at. If the customer doesn't show up, it doesn't matter who signed up. And in our case, we were bugged that people would simply skip sessions when it involved something as important as their business.
Interestingly, this almost never happened when there was payment involved
When I first started out, I could have given free seminars, but for some daft reason, I didn't. Instead about 15 people signed up to a series of seminars that would last all year. Now they weren't paying a lot. The fee was about $75 per session. And yet, they all turned up for session after session. This was despite all the odds.
You see we didn't have money to hire any rooms
So we'd ask people for rooms that were free or at least very economical. We started with free rooms. And so we'd have a room for maybe two or three sessions and then we'd have to move. And the group moved with us, without a fuss.
We probably moved venues thrice in that year and they kept showing up. Of course, not all showed up. Some dropped off, but the bulk of them were still around when we did our last seminar (at yet another free venue).
So what is the moral of this story?
To me, at least, the moral is to charge. Today's public is so inundated with free stuff, that it's hard for people to justify showing up unless they've paid something. So what is that something? Well, I charged $75.
And you may want to try that figure. Or you may want to try $39. That's low enough and high enough at the same time. If it's just $10, it's easy to discard the $10. If it's $39, it's more likely that they'll show up.
And that's what I'd do if I wanted to have a free workshop series again
I'd take a fee of say, $500 upfront. Then I'd refund the money if the participants showed up to all (or at least a minimum number of events). That way they could get their money back, and my goal would be achieved.
You may not have such an altruistic goal. You may want to have a seminar as a way to get people to the event, so you can sign them up. And that's perfectly fine.
But my advice would be to charge a fee
Free is too cheap.
P.S. Do you have a seminar story to share? Write it here and I will respond
---