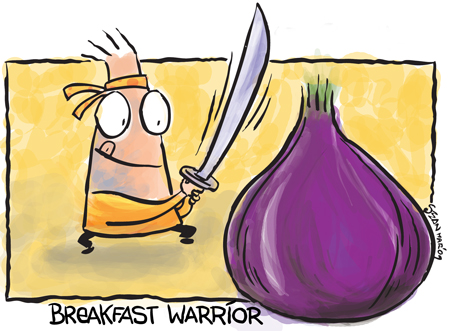 Anyone can become a great chef—if you have the right emotional training to back you up!
Benjamin Zander, famous orchestra conductor and co-author of the 'Art of Possibility' has a story to tell.
Benjamin had a twenty-five year old problem.
He had thirty students that were going to go through two semesters of training with him. The students were all instrumentalists and singers. They were going to learn the art of musical performance, including the psychological and emotional factors that stand in the way of great music-making. Yet, in twenty-five years, he wasn't able to get the class to do what he wanted them to do. Namely, to take risks with their playing. They'd always be so anxious to succeed, that they'd stay on the straight and narrow.
And then Ben (and his wife Roz) came up with an emotional super-charger
They decided to give every single student an A. No matter what they did during the year, the student would get an A.
Of course, this seemed unfair. Should the slacker get an A, even though another student has put in ten times the effort?
Technically this seems weird, but look at the emotional ramifications.
Imagine if you could learn to draw cartoons, and there was no such thing as a bad cartoon.
Imagine if you could write an article, and there was no such thing as a bad article.
Imagine you could paint a picture and got an A.
You can't imagine it, can you?
But ask a cartoonist, or a reporter, or a painter to do the corresponding tasks above, and they'll do it without too much of a frown.
And if you look back into their history, you'll find something consistent.
You weren't told that you were a great cartoonist. Your drawings weren't put up on the fridge. Your parents didn't get you a whole bunch of drawing books, and let you paint on the walls. You were instead told, that art was for the other talented people. That no one in your family was an artist. That it's ok if you can't draw. And that's not what happened in the house of the 'cartoonist.'
In that house, the cartoonist knew one thing. That he or she would get an A if she drew something.
That the mother and father, and teacher, and grandparents—even the dog would be all excited when you did your cartoon.
That when you went to school, your friends would egg you on to draw cartoons.
That your cartoons happened to be a chick/guy magnet and got you prominence.
All the while the brain is going: Hey this is good.
Emotions of success fill your brain.
Failure pops in, says hi, but the success is so overriding, because suddenly you're seeing yourself as an A student already.
And hey, now you're talented.
But how do we know this to be true?
Words and actions have enormous emotional ramifications.
If someone tells you you're really good at 'cartooning' for instance, a couple of things happen.
1) You begin to like that person more.
2) You begin to see your own work in a new light
Liking that person more, means you get pre-disposed to impressing that person. So if the person says: "You really dress well" then you're more than likely to dress well each and every time you go to see that person (even if you're quite casual otherwise). And then, in the process of dressing well, you feel better. And you see your own dressing in a new light. You can now spot smart casual from casual. You are now suddenly progressing along the line—if only to impress one person.
Of course, this leads to other people noticing your new 'talent.'
This starts a bit of a Domino Effect. You think, there you are. And therefore you become what others believe you are.
And this magnificent journey begins with a simple comment, or series of comments.
Comments that make you feel good. Comments that make you smile. Comments that end up with your 'talent' becoming a chick magnet.
The A starts in a single moment.
Which brings us right back to Benjamin Zander and his students.
He got each student to see themselves at the end of two-terms. And to write a letter to him saying: "Dear Mr. Zander…I got my A because of…"And in this letter they had to give as much detail as they could; the story of what would have happened during the year; and what would have happened to the student as a result of this A grade. And everything needed to be written in the past tense.
Would you live up to your A?
Would you live up to be a 'smart dresser?
Would you live up to being a superb cartoonist?
You see, it's all emotion. Because Zander's students haven't achieved anything. But do you have any doubt about the outcome? That's the power of emotion. That's the power of your brain. And that's why talent is a myth.
Next Up: Find out—Why Nightingales Sing In Tune: Decoding the Mystery of Talent