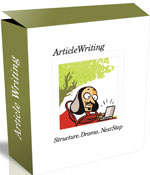 Imagine you had a fairy godmother.
And she gave you one wish: The wish of 'perceived expertise'. This 'perceived expertise', means that your customers would look atyou and say: "There goes the expert in the field. I only want to
work with her/him."
I had such a godmother. And I got a wish from that fairy godmother in the year 2002.
You see I'd just started up my consultancy in marketing
I'd moved from India to New Zealand. No one knew me in these parts. No one knew if I was good at what I did. Or just plain useless. And what was worse, was I wasn't quite sure either.
Then one day, that fairy godmother whizzed into the room
"Write articles," she said.
"Write articles?" I echoed.
"What good are articles going to do for me?" I thought condescendingly.
But as fairy godmothers go, they can read your thoughts
And so there I was, um, writing articles. And remember, I didn't even know my subject well enough. To me, marketing was a whole new world. But then something magical happened. Something I just didn't expect. When I sat down to write, I started to get ideas. Ideas that I didn't know existed in my head.
And as I read more books (both business and non-business books), I got even more ideas.
When I put those ideas on my website, and put up a little 'Subscribe' link right at the very bottom–I started getting subscribers.
I wasn't even selling anything online (or offline for that matter)
And there I was..ahem…building an audience. An audience that wanted to listen what I had to say. An audience that went from just friends and family, to a chunky hundred people. Then a thousand. And it kept growing.
I wasn't doing any advertising
No publicity. Heck, I barely knew how to do my own marketing. Yet these articles were like a magnet.
They pulled people from every part of the world to my…um…pretty crappy website (you should have seen it in the year 2002). And offline, I was starting to get inquiries too.
"Can you give us some advice on these marketing matters?" they said
"Can you train our staff?" they said. Can you do this, and can you do that. And on and on it went.
But articles were hard work for me
It would take me two days to write a single article. And I'd curse and struggle.
And to write one article a month was a big achievement for me.
But hey, I did have a fairy godmother
And fairy godmothers grant wishes, so I took her up on the wish. "Make me write great articles that captivate. And show me how to write them at high speed (so I don't have to spend two days over a single article)" I said to her.
"Article writing is about structure", she said
"Structure and drama," she continued. "Structure and drama and the 'next step'," she crescendoed. "Drama pulls you in. Structure keeps you there. And then the next
action gets your client to move to the next step."
And just like that I learned how to write articles. And now it's your turn.
Will you let me be your fairy um…godmother?
Do you want to learn how to spot drama? Learn how to spot structure? And understand how to use the power of the next step? Well, ask and you shall receive. But hey, there are no magic wands here. You've actually got to go to the link below.
And there you'll be taken to a page with instructions. Instructions on how to get some goodies. Goodies to drama, structure, and the next step.
So, tah-dah, here's the link:
https://www.psychotactics.com/articlewriting
See you on the other side! 🙂


Sean