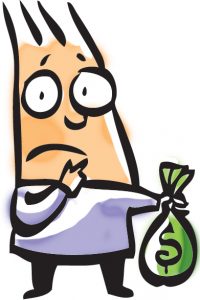 Would a customer buy a product just to brag?
Would they pay more just to say: "I paid more?"
What if you sold something that wasn't something spiffy like a diamond?
What if you sold a bed, or teacups, or tiles? What if you sold a training course instead?
In any business the price can be quite touchy. It doesn't seem to make sense that higher prices would sell a product/service better.

So most of us adopt a low price strategy.
But there are some businesses that aren't necessarily low priced. e.g. Christie's, New York. People go in expecting to pay a higher. This is because the product is rarely being bought for utility value. It's being bought for snob appeal.
A $2000 Mercedes or Lexus isn't a good thing. It's a bad thing. If you buy a $75,000 car, it's a good thing, if you're in the snob or collector's game. The price is directly proportional to sales.
We've tried this very successfully in non-pricey goods (or should I say "utility" goods).
So let's say you're selling a bed. And I walk into the bed store. And you have some idea what a bed would cost, but hey you have a budget etc. And I say: Would you like to buy the $1000 bed or the $5000 bed? Now the shock is palpable to you as a customer. What? $5000 for a bed? So how do you react?
Amazingly the question changes. The customer now says: What does the $5000 bed have? And now you have the permission to describe what makes a bed $5000 vs. $1000. The value isn't snob appeal at all. There's a marked difference.
So do they buy the $5000 bed?
In some cases, yes. In most cases they go to $3000 or slightly below or slightly above. But how many go to the $1000? Almost no one does. Why would you purposely buy the 'crappiest' option?
Of course a lot depends on your sales pitch. If you educate the customer then it works to mutual advantage. If you simply "sell, sell, sell" it won't work, because the customer senses the sales pitch. And this isn't restricted to beds.
You can buy a knife.
I can buy a knife.
Actually you can buy a knife set for about $50-$200.
And you can get the knife block with the knife set too.
Maybe they'll even throw in a honing steel to hone your knife.
And my knife alone costs $200. A single knife. Imagine that.
Am I insane? Why buy a knife for $200, when I can get a whole set for $50?
You may think I'm insane, but I've seen chefs with $4000 hand-crafted knives.
It's rumoured that Iron Chef Masaharu Morimoto never enters the kitchen stadium without his custom-made Japanese knives that are priced between $4000 and $5000 each. That makes my $200 knife look like some junk, doesn't it?
And is it possible that Masahuru Morimoto slices and dices the avocado better than I do? It's possible, but is it 20 times better? That's possible too. But eventually it's also a matter of pride and snob appeal.
It doesn't matter whether you're selling beds, knives, fireplaces or a training course
We have a training course in Article Writing, for instance. I positioned it as the 'most expensive article-writing' course in the world. A lot of the clients who do the course are small business owners. They have limited resources, and snob appeal doesn't quite um, appeal.
They wouldn't be likely to do a course simply because it's the most expensive. And yet it gets attention just like the bed did. The question changes from: "Show me what you have to offer" to "Why is your course the most expensive in the world?" And that gives you the permission to respond to the question.
Responding to the question is what's important
You can't do a sales pitch. You have to educate me. You have to tell me why I should buy this vs. that. An informed customer is a happier customer. I can tell you that I'm happier with my $200 knife than I would be with my $50 knife set+knife block+honing steel. I am because I know the difference between the two.
I've done my research. I've been educated and so I feel empowered. Is there a bit of snob appeal in me touting my $200 knife? Of course there is. It's likely that you don't own a $200 knife. So now if you're keen to find out what makes a $200 knife better. Your customer is keen to know the difference.
But do you have to display prices to get the question?
Not necessarily. In some cases you can. In other cases you may show just a range. If the sale is offline, there's a chunky opportunity to steer a customer to see what you want them to see. In an online situation, a similar course of action is possible.
With the right steps, the client will follow you through the sales sequence as you demonstrate what makes a better bed, or a better fire place, or a better course. But again, let's not forget. You're not selling the product/service. You're describing what's outstanding, what's just ok, and what's totally crappy. This sequence of education is helping the customer decide.
And how do you know if this technique works?
How do you know it won't bomb and leave you penniless? Try it. Try it face to face with a potential customer. But don't make the dumb mistake most sales people do. Don't go trying to sell the product. Instead educate yourself in great detail about your premium products, your mid range product and the cheapest, crappiest product of all.
You don't need to understand all the brands and all the prices. You just need to know the three brands/products/services you're going to talk about (at best). Then educate the customer—don't sell them your product.
Tell them what makes the products/services better and what makes it worse. In effect, you're playing devil's advocate with your own products/services. Playing one against the other, while educating the customer.
Apple does this all day long
Look at how Apple sells their products that fly off the shelf. Sure there's snob appeal. I have an iPad and you don't have one. But why have a lower priced iPad? Is it to capture the lower end of the market? Sure there's some of that involved, but think about it.
Which model of the iPad do you want? The lower priced one or the more expensive one? Notice how much trouble Apple goes into to explain almost insignificant features of the product in amazing detail. It's done for a reason. It educates you and makes you want the product even more.
You may not be Apple. You may never aspire to be Apple, but that doesn't mean you can't aspire to understand and replay their powerful marketing tactics and pricing strategies.
Customers say they buy on price. But they rarely buy on price alone. There are so many other factors that come into play.
One of these factors is sheer excellence of the product.
The other is understanding what makes the product superior. And of course, there's snob appeal. If you're selling to an audience that understands excellence and snob appeal, don't start with your cheapest prices.
Start at the top.
It gives your customer the best possible product.
It also gives them bragging rights.
P.S. Is our Article-Writing Course the most expensive in the world? We certainly think so. And you'll know why when you see the results and the testimonials. And nope, it's definitely not snob appeal.