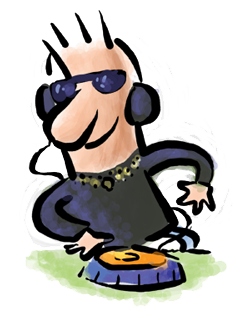 Have you ever driven a car really fast? At some point it seems like the car is standing still. You're doing 100mph, but it sure feels like you're not really moving. You get this feeling on a plane as well. You're hurtling at 500mph and you feel like it's a terribly long flight and you're bored, frustrated and there seems to be no destination in sight.
This is the curse of super-momentum
I'll have participants on a course like cartooning for instance. Some participants do just one or two cartoons a day. Some do sixteen a day. So who feels the most stuck?
Yup, it's odd, but the ones who are doing sixteen feel like they're not making progress as quickly as they should. They feel like they're standing still. And it's true, you do feel like you're standing still.
Several years ago it would take me a day or two to write an article
Now I can turn out three or more articles in a day. But I often feel like I'm doing nothing. I'll get up, write two or three articles. Read through about 50 posts, go for a walk and I feel I've done NOTHING! I feel the same with my watercolours. In 2010, you couldn't talk to me when I was doing a wash of watercolour. Now I can do three washes while having breakfast. And I think I've done nothing.
Super-momentum is the reverse of lack of momentum
Lack of momentum makes you feel like you're doing nothing. And you usually are.
But super-momentum reeks of the same lack of progress. It's time to recognise that your brain is playing tricks on you. That indeed you're in a plane hurtling ahead at 500mph.
That you are moving ahead incredibly quickly.
Even if you can't feel it.
---
NEW! The Brain Audit is now available in many formats


1) You can get a physical book (directly from Amazon)
2) You can get the ePub/Kindle/PDF version
3) You can get an audio version
4) Or you can get the the more interesting (or should we say "most interesting") option The Brain Audit Kit.
Find out more Brain Audit Options
---
Top Selling Products Under $50

---
NEW! Critical Website Components: A Simple Step-by-Step System to Creating your Key Website Pages
1) Testimonial Secrets: Powerful Techniques to Get Better Clients-And Sales
2) Story Telling Series: How to suck your audience right in, in a matter of seconds
3) Sales Pages: How To Write Benefits and Bullets That Speed Up Sales
4) Article Writing: How To Speed Up Article Writing With Simple Outlines
5) Visual Basics: How Visuals Help Increase Sales Conversion On Your Website
6) Design Clarity: How to put sanity into your design with some really simple tweaks
7) Chaos Planning: How 'Irregular' Folks Get Things Done
---
1) Black Belt Presentation Series: How to completely control the room—without turning anyone off?
2) Online Membership Sites: How To Build A Powerful, Community-Driven Membership Website
---