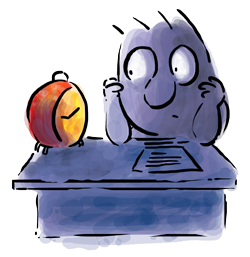 There are two kinds of people on the planet.
Those who make excuses.
And those who don't.
The ones who make excuses don't start that way
No one is 'born talented' at making excuses. But over the years they learn to get out of things. They learn how to blame the weather, their parents, their teachers, the system, the chewing gum—yeah, pretty much anything that can deflect the blame. And give them the excuse they need.
And then there are those who don't
Or rather won't.
We all have our difficulties and some days we feel like making excuses. And we start mumbling, but stop before the mumble pushes itself into a rumble. And we get the job done.
Amazingly all of us have similar capabilities. Similar capabilities to get stuff done
Or completely screw up our lives with excuses.
When you wake up in the morning you get to choose which route to take. As one wise person said: The difference between successful people and unsuccessful people is that smart people hate doing the same things that unsuccessful people hate doing—but successful people do it any way.
As you go on this journey, you get the chance to back out
To make excuses.
To blame the chewing gum.
Or not.
You have the choice.
You decide.
---
"Business owners are often too scared to ask for testimonials"
I've been using Testimonials as a marketing tool for years and I didn't think there was much left for me to learn about testimonial techniques. Especially so after reading those powerful six questions in the Brain Audit.
What I found really useful is how Sean de-constructs various testimonials, showing you the parts where they fail, and thereby enabling you to create testimonials that work a whole lot better.
Cornelia Luethi, FX Marketing
Auckland, New Zealand
Judge for yourself: Testimonial Secrets
---
The Brain Audit: Why Clients Buy And Why They Don't (Available in Different Formats)
---
Top Selling Products Under $50

---
1) Testimonial Secrets: Powerful Techniques to Get Better Clients-And Sales
2) Story Telling Series: How to suck your audience right in, in a matter of seconds
3) Sales Pages: How To Write Benefits and Bullets That Speed Up Sales
4) Article Writing: How To Speed Up Article Writing With Simple Outlines
5) Visual Basics: How Visuals Help Increase Sales Conversion On Your Website
6) Design Clarity: How to put sanity into your design with some really simple tweaks
7) Chaos Planning: How 'Irregular' Folks Get Things Done
---
1) Black Belt Presentation Series: How to completely control the room—without turning anyone off?
2) Online Membership Sites: A crucial insights into what makes a successful membership site
---