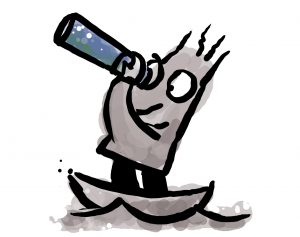 Imagine it's a rainy night. And suddenly you hear a drop of water coming from the roof.
One drop, two drops. Five hundred drops and a bit of mopping up later, and you've got a bucket under the leak. So what do you do next morning? Do you leave the buckets or do you resolve to get someone to fix the leak in the roof?
Not surprisingly most of us would make sure we fixed the leak.
Perhaps the entire roof has to be changed. And yes, roofs cost upwards of $5000-10,000 to replace, but if it needs replacing, then that's what needs to be done. We know for sure that if we don't fix the roof, the leak will spread. It won't be just a matter of a bucket here or there.
Soon enough the leaks will start to spoil furniture, valuables and most importantly create a constant dampness. This dampness could lead to mould and a whole bunch of health problems.
So with roofs we don't take half measures
We don't just attack the "drip", but actually take on the structure and fix the underlying issue completely. Unfortunately this isn't the case with most other things we do. And in the book on "Path of Least Resistance", Robert Fritz outlines exactly what happens.
Robert talks about the pendulum system we tend to use
The pendulum works like this: You have a problem. e.g. famine in a country.
1) Problem= Famine in a country.
2) The world wakes up, and sends aid.
3) The problem eases because of the temporary aid and food.
4) The world decides they've done their bit because things have "normalised".
5) They stop the aid and food.
6) The country is now worse off and more famine ridden in the years to come.
Why is this the case?
It's simple to understand why the famine strikes back. When the aid comes in there's zero incentive to work, because now food is often cheaper than it costs to grow it in the fields.
So the farmer throws in the towel, and stops growing the little food he was once growing. It's easy to see what happens next. The aid dries up, and now the country is worse off than before.
And the reason they've slipped into this crevasse is because the world attacked the problem instead of the structure.

So what is structure?
Structure is mainly attacking the root of the problem, and using the problem merely as a symptom. And a few examples would sure help at this point in time.
1) Headache: Let's say you have a headache. The tendency is to pop a couple of pills and go on our way. In the ancient medical practice of Ayurveda, this problem is tackled differently. Your headache is not merely a headache, but rather symptoms of a bigger issue.
And so ayurveda takes on the problem, helping you with exercise, food and a way of life, rather than just trying to fix the headache. The system of ayurveda fixes the structure first, and the problem goes away.
2) Learning a new skill: I was learning a new program (InDesign) and found that I couldn't concentrate for more than 10 minutes at a time. It's easy to think it was my lack of focus, but lack of focus is a problem, and so we look at structure. I had to change "where" I learned InDesign.
At my desk I was easily distracted with email or Facebook. If I took my laptop, put it on my coffee table and then learned InDesign, I found it hard to jump back and forth to email. So I was able to focus. Again it was the underlying structure that had to be changed.
3) Writing: Often folks say they are not born-writers. Or they have writer's block. Rubbish. No one is a born writer and writer's block is a stupid, insolent myth. The problem with writing or any sort of creative work is understanding the structure.
If you understand the structure of how to construct something you can write gags for cartoons, or write articles, or write books on demand. The super-productive folk aren't smarter than you. They've either stumbled on, or worked out that the process of creation isn't the problem at all.
It's the structural elements. Get them right, and you can be creative for the next forty-three years in a row.
But isn't structure overkill?
It's easy to pop a couple of tablets and get rid of the headache, right? Right, until you realise that most folks around you don't get headaches. Suddenly it dawns on you that what seems like a headache, isn't just a headache.  And that examining that underlying structure isn't overkill at all.
It's simply an examination of what's the root cause behind the leak
A leak that will spread to other parts of the house.
That will destroy the furniture, create dampness and mould.
And slow you down like crazy.

Drip, drip, drip.
————————
Next Step: "The Brain Audit-It's like the first comic book in marketing!"
As an infojunkie, I buy ALL the stuff about smallbiz marketing, and here's what makes Sean's book stand out: while others mostly just dump info on you, Sean's passion is that you understand and absorb the material for easier implementation.
Earlier versions of The Brain Audit had easy to understand structures and graphs, but this new one, with the new secret ingredient – cartoons – helped me absorb the knowledge faster and with more fun.
I would've liked to cite specific results, but I've been using the Brain Audit for so long I can't keep score any more. I used it in my sales copy for selling manuals, trainings, seminars,
memberships, or to help my customers sell maps, wine, even electricity.
I'd recommend the Brain Audit to any business owner or marketer who wants to understand the mind of his customer and be able to use this structure, this checklist to write copy more confidently."


Gabor Wolf, Marketing consultant, Budapest, Hungary
Judge for yourself The Brain Audit: Why Customers Buy And Why They Don't
———————
"I'm one of those people who has a lot of trouble spending money on training and education, so paying a fee to join a membership was a big step for me."
What I've found, is that people are serious and they contribute. That makes a big difference. The forum is completely worth the price of admission, though of course I wish I'd joined several years ago when it was cheaper. (Ironically, it seemed too expensive to me then, but I'm sure if I'd joined then I'd be further in my
business.)
The biggest piece of value for me so far is the "critiques" section of the forum. After seeing the quality of feedback people were getting, I took the plunge and wrote a sales letter I've been meaning to write for almost two years. In the days after I posted I got a lot of helpful feedback that's helping me make it stronger.
But the most important thing is that I actually got it written. Without a friendly and intelligent audience to evaluate the draft, I might never have sat down to do it.
I'm also enjoying the general discussions. As a solo entrepreneur, most of my days are spent in isolation. And because of where I live, I'm not around other similarly-minded folks. The forum is inspiring; it's great to be in contact with other people who are working hard on their businesses and facing so many of the same challenges I am.
I just wanted to say that I'm finding the content and community in 5000bc so valuable, and I'm very glad I joined.



Joe Thoron, Eastsound, WA, USA
Judge for yourself https://www.psychotactics.com/5000bc
———————
New Products: Introductory Price
1) "Lazy Testimonials" Attract The Wrong Clients. Learn how to use the power of the 'six critical questions' to get incredible testimonials–and attract clients that make every day an absolute joy.
2) Do you sometimes wonder if planning books are written just for the 'organised' people?
Learn Why Most Planning Fails: And The Critical Importance of Chaos in Planning
3) Does your websites, brochures, presentations, etc..confuse your clients? .
Put some sanity into your design with some really simple tweaks.
3) Yes, you needs visuals on your sales page, but how do you use visuals to immediately improve your sales conversion?
———————