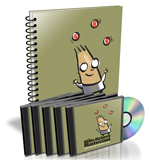 I am resending this message in case you missed it last week.
In the year 2007, I had a discussion with a client. It was about giving most of our courses away–yes, almost every Psychotactics Course–by the year 2020.
Without charge.
It sounds unusual: Why would someone just give valuable information away?
It depends on the person, right?
Well that person happens to be me. And I'm not giving away $50 or even $1000, but instead a home study version of a workshop worth a chunky $2500.
Is there a catch?
Is there an upsell?
Is there some cross sell?
Is there some ulterior motive?
The answer is categorically no.
No up sell.
No cross sell.
No sneaky tricks.
And yes, there's a perfectly good reason why we're giving away the workshop. And you can read it and judge for yourself at:
https://www.psychotactics.com/free-goodies

Warm regards from Kiwi country…
-Sean
P.S. It's free. But only for the next two weeks. And there is a waiting list.