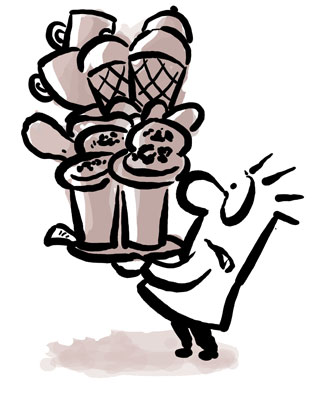 Let's imagine you and I are meeting in Donostia-San Sebastián in the north of Spain for dinner.
And we're going to have dinner in the old town. What are we going to have for dinner? I know. We'll have some beer, los pintxos, some icecream, and a cafe cortado. And guess what? We'll get the entire meal on one plate. The beers, six pinxtos, ice-cream and the coffee. All served to us on one plate—at the same time.
Hmmm…that would be a mess wouldn't it?
Now logically speaking, that's not too much food. We could easily run through six pinxtos, two or three beers, some icecream and wash it down with a cafe cortado or two. But we couldn't, or wouldn't want to do it all at once would we?
This is precisely what you're asking your customer to do.
Let's say you're a professional and you have several services. It's easy to think that all the services need to have reasonably equal weight on your web page. If you're selling a product, and the product has several features, then it's again easy to believe that you need to somehow stuff your headline with all the possible features.
And as if that's not enough you go ballistic on the rest of the page
You try to stuff all your services/product features in the body copy in order to tell your client that it's all important—and that it's all important right now. And customers aren't so kind on websites (Or restaurants) for that matter. If someone overloads your plate, you simply get confused and dislike the experience. Then you walk away.
And that's the danger.
The danger is the overload.
Ok, so you understand the concept of overload right? But how do you go about creating a page that gives all the information needed, without overloading. And yes, without leaving anything out?
You do it exactly the way the restaurant does.
Choose one service to begin with. Let's say you're a lawyer, for example. And let's say you're really good at 'home conveyance for expatriates'. Well talk about the home conveyance. Tell me what problem you solve for me. Tell me how your services may well be more expensive but why I must consider you. Tell me enough without jumping me across from service to service to service all at once.
And if you're selling a product, the very same concept applies.
Tell me the biggest problem that you solve. Drive home that problem for a bit. Two paragraphs, three paragraphs. Let me enjoy what I'm reading. Let me chomp a bit into the subject matter. When I've had enough, I'll be ready for the next feature. And the next. And the next. One by one.
Let's take an example: We sell an Article Writing Course. Now what would you use article writing for? Ooh, let me count the ways. It could be to write articles for your newsletter; write content for your website; create outstanding presentations; develop superbly built video content for YouTube; write press releases that make you look like a pro…(You want me to stop any time soon?)
Every product or service has dozens of features
Every product solves dozens of problems and brings dozens of solutions. But if you go to the page on the Article Writing Course, we don't deal with all the problems all at once. All we talk about is one problem. And we drive home that problem. Two, three, four paragraphs. Same problem. Then we move to the next and the next.
Just like our meal at the Pintxo bar
It's easy for us to drink the beers (hic), then eat the pintxos and then wash it all down later with ice-cream and coffee. And if you do it in sequence, or, at least separately, then I'm interested. And I'll stay for the "meal". And enjoy the meal.
Isolate the services. Explain them.
Isolate the product features. Explain them one by one.
Isolate. Isolate. Isolate.
Do you want to drive your customers away? Or make them stay? The choice is yours.
———————–
Next Step: "The Brain Audit-It's like the first comic book in marketing!"
As an infojunkie, I buy ALL the stuff about smallbiz marketing, and here's what makes Sean's book stand out: while others mostly just dump info on you, Sean's passion is that you understand and absorb the material for easier implementation.
Earlier versions of The Brain Audit had easy to understand structures and graphs, but this new one, with the new secret ingredient – cartoons – helped me absorb the knowledge faster and with more fun.
I would've liked to cite specific results, but I've been using the Brain Audit for so long I can't keep score any more. I used it in my sales copy for selling manuals, trainings, seminars,
memberships, or to help my customers sell maps, wine, even electricity.
I'd recommend the Brain Audit to any business owner or marketer who wants to understand the mind of his customer and be able to use this structure, this checklist to write copy more confidently."


Gabor Wolf, Marketing consultant, Budapest, Hungary
Judge for yourself The Brain Audit: Why Customers Buy And Why They Don't
———————
New Products: Introductory Price
1) "Lazy Testimonials" Attract The Wrong Clients. Learn how to use the power of the 'six critical questions' to get incredible testimonials–and attract clients that make every day an absolute joy.
2) Do you sometimes wonder if planning books are written just for the 'organised' people?
Learn Why Most Planning Fails: And The Critical Importance of Chaos in Planning
3) Does your websites, brochures, presentations, etc..confuse your clients? .
Put some sanity into your design with some really simple tweaks.
3) Yes, you needs visuals on your sales page, but how do you use visuals to immediately improve your sales conversion?
———————
"5000bc had been recommended by a Caver, and I took a look at it. The cost of joining was small relative to a recent terrible purchase, but I was in no spending mood at the time…understandably."
Within a couple days of joining, I soon realized that Sean walks the walk and talks the talk. Not only was Sean contributing to the forum, but the calibre and quality of the feedback from other members was invaluable and definitely free flowing.
What I found instantly on 5000bc were answers to my most pressing questions related to my business. That made the cost of joining 5000bc, even after only a week or so of being a member, insignificant relative to the value received.
Peter J. Draper, EquityTransitions Inc., Mississauga, Ontario.
Judge for yourself https://www.psychotactics.com/5000bc
———————