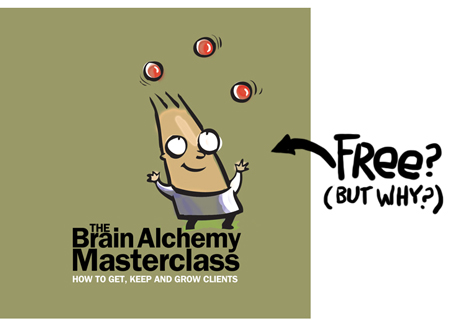 In the year 2007, I had a discussion with a client. It was about giving some of our courses away—yes, Psychotactics Course.
Without charge.
It sounds unusual: Why would someone just give valuable information away?
You and I know that "normal" people don't do this kind of stuff. No one just gives away thousands of dollars worth of stuff without some sneaky up-sell, cross-sell or some kind of catch. To give away valuable information just like that, sounds weird at the very least.
But we're not normal (our logo should give you enough hints).
My long-term goal is to create a university in New Zealand (Casa LocoLoco: The Mad House)
This university will be in place to help folks like you run their businesses. It will be a non-profit university. In the spirit of Casa LocoLoco, I am slowly going to make some Psychotactics products and workshops free. So as you can see this process is thoughtful; it's methodical. And it's designed on the fact that generosity helps us all.
And the Brain Alchemy Masterclass is just the beginning.
The only 'catch' if you want to call it that, is that you have to opt-in. This is for several reasons, but the main reasons are:
1) I only care about people who'll take the trouble to opt-in.
2) Because it's a three-day workshop, the digital file download will have to be managed, or if everyone downloads the material at once, it will crash our servers. So I have to send out notifications on different days/time of day.
Of course giving this free is not an easy task, because the whole thing needs project management to see that we don't crash our server or do crazy things.
Anyway…that's the the gist of things. Ready to get going?
Learn the structure that you need to build your business upon.
Important Note: If you've already heard/read it, it's a good idea to experience it again. The questions remain the same but the answers change and you will experience the same information in a totally different light.
Warm regards,
Sean
P.S.Click here to learn how to structure your business.
________________________________________