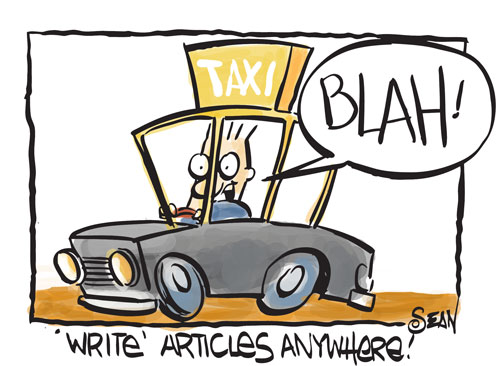 I was on my way back from the airport, when I struck up a conversation with a taxi driver. He was originally a landscaper, but was now driving taxis (as part of his retirement plan) and he did like the job a lot. But he did have some regrets.
He wanted to write. It had always been his dream to write a book about landscaping.
But despite several attempts, he'd failed. Every time he sat down to write something, he'd struggle. Then he'd give up. And in his mind he'd decided he wasn't much of a 'writer' after all.
So I told him he was mistaken. By the time I told him he was mistaken, we were already on the Auckland Harbour Bridge, and about 15 minutes away from my destination.

I had 15 minutes to get him to 'write' an article…
And so we started. I asked him to pick a topic on landscaping. And he started talking about soil. Somehow that topic veered to good soil. And bad soil.

And my questions were:
1) What is good soil? Why is it considered good?
2) What is bad soil? Why is it considered bad?
3) Can you create good soil from bad soil?
4) Can you mix good soil and bad soil? (And what are the ramifications?)
5) Where would you recommend a person start when putting together the soil for planting.
6) Summary
And exactly twenty five seconds before we got to my house, he'd finished his 'article'.
All while driving a taxi.

But can you write articles while driving a taxi? Or headed home on a bus?
Of course you can. In fact, anyone who can formulate thoughts can write an article. The problem of 'writing' isn't in the thought process. We're all able to structure our lines easily. When someone asks us questions, we're easily able to give answers—if we know the topic. The problem arises when you sit down to 'write'. The moment you sit down to write, you forget how to think. You suddenly are so focused on structuring your information, that you forget to ask the questions. If all you did was ask the right questions, you'd be able to write an article, give a speech, write a book, create a presentation. Because all you're doing is putting thoughts together. Nothing more, nothing less.
In fact, I have an open challenge
I can teach anyone to write articles in thirty minutes or less. Anyone. Yes, that's correct: anyone. Even an illiterate person can learn how to 'write' an article. And it doesn't matter where they come from, or their background, or their level of education. If they can have a conversation with me, I can teach them how to 'write' an article. Of course, becoming a writer who brings drama, flow and power to the article takes a little more than thirty minutes, but that too is possible. Education, background or ability has zero bearing on writing articles.
All you need is a good teacher.
A robust system.
Good questions.
And a short taxi ride.
Want to get more goodies?
Next Step: More Goodies: Find the entire series on article-writing (articles not tips) in text and audio with cartoons!
Don't forget: To share the article via twitter, facebook, email, blog or your newsletter