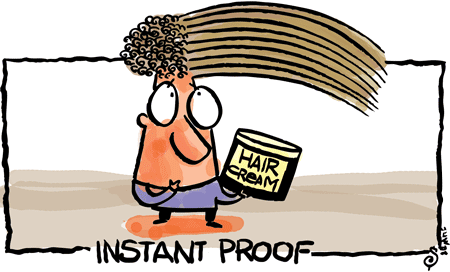 Have you ever had a client who won't listen to you?
Let's say you've got certain marketing strategies that will work for the client, but they sure won't listen. They think their way is the best. Of course at this point there are two things you can do. Either buckle in and do whatever the client's asking you to do. Or walk away from the project.
But hey, there is a third way. And it involves three levels of proof.
But before we get into those three levels of proof, we have to understand what prevents a client from buying into your ideas. They aren't buying into your ideas, because they're not 'the client's' ideas. The problem lies in the fact that you're selling a concept. And they're not buying.
And of course, you can never tell a person that they're making a mistake.
Because even if they say they won't take it personally, they do take it personally.
So what do you do?
You show three ways of proof
1) Proof that you've created (in the form of information)
2) Proof that someone else has created (in the form of information)
3) Instant demonstration (e.g Corning glass, Headline report, Article Writing Course)
Proof that you've created in the form of your information demonstrates your expertise factor. So if I feel strongly about the concept of 'consumption', then I'll write articles on the topic. I'll create a report. I'll create audio. Or video. I'll create information. So that when a client isn't quite sure, I can direct that client to that information.
But is that enough?
Sometimes it is, and sometimes…nah, it's never enough. So you move the client to external proof. Show the client someone else writing about the same topic. Point the client in the direction of a book, a PDF—any information created by a third part that substantiates the proof. Third-party proof is extremely powerful, and the client may now be heading over to your side, but then again, maybe they need a third level of proof.
The instant proof is the final factor
The instant proof is where you can instantly demonstrate why something works. So if you have a before and after situation that's instant proof. If you can demonstrate the product or service, by showing an instant change, then that's instant proof.
Example 1: I'll show a client a testimonial without a photo—and with a photo.
Example 2: Or I'll show a client a headline without a curiosity-factor, and with a curiosity-factor.
Example 3: Or a floor that doesn't chip easily vs. a floor that chips easily and is therefore to be avoided.
Example 4: Or a PC vs. a Mac 🙂 (heh, heh)
Three levels of proof…
When you're going into a meeting, or creating a proposal, you don't just want to create the proposal or do the presentation. You want to show the client three levels of proof. And you want to walk away with the project to be done.
Your way!
To get a direct podcast delivered from iTunes (so you don't miss any of the episodes) click on this link